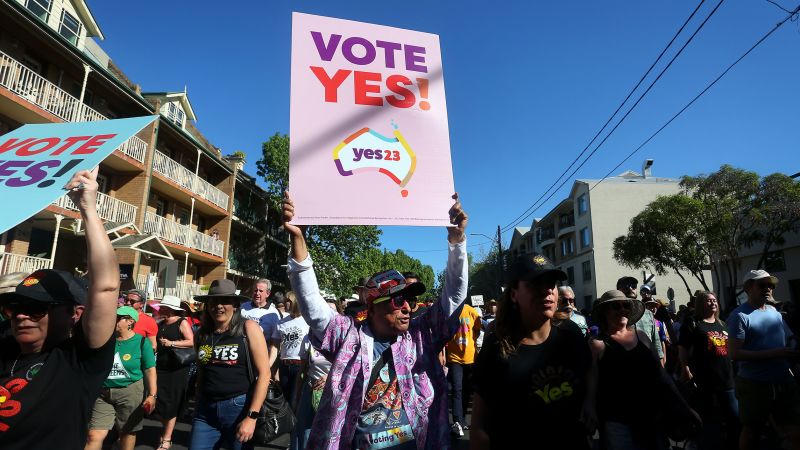 Title: Australian Referendum to Recognize Indigenous Australians Fails to Pass
Polls have closed in Australia's closely watched referendum, where citizens voted on whether to recognize Aboriginal and Torres Strait Islanders and create a body called the Voice to Parliament. Early results indicate a possible defeat for the proposal, which required a majority Yes vote nationwide and in at least four of six states to pass.
This referendum, the first of its kind since 1977, garnered significant attention from both supporters and opponents. A YouGov survey leading up to the vote gave the No camp an 18-point lead, creating a challenging environment for the Yes campaigners.
Prime Minister Anthony Albanese took a deeply personal interest in the campaign, returning to Uluru, where Indigenous leaders agreed in 2017 to pursue constitutional recognition. Albanese hoped to bridge divisions and garner enough support to pass the referendum. Supporters of the Yes campaign promoted the message of choosing love and winning hearts and minds.
However, leading No campaigner, Nyunggai Warren Mundine, dismissed the Yes campaign's approach as empty slogans, accusing them of lacking substance. The No campaign pledged to seek better outcomes for Indigenous Australians through greater economic participation and accountability.
The proposed Voice to Parliament intended to address the growing gap of disadvantage between Indigenous and non-Indigenous Australians. Troubling statistics indicate that this gap is widening, highlighting the urgency to find effective solutions.
Following the referendum's potential failure, Prime Minister Albanese has pledged to respect the democratic vote and forego legislating a Voice to Parliament. However, the No campaign's promises of improved outcomes will now face significant scrutiny in ensuring progress for the most disadvantaged Indigenous Australians.
As Australia reflects on the referendum's outcome, it is clear that this issue will continue to be a matter of concern and debate for the nation. Efforts to bridge the gap between Indigenous and non-Indigenous Australians will undoubtedly continue, albeit through different avenues and approaches.
As Press Stories closely follows developments concerning Indigenous recognition and equality, we will continue to bring you the latest updates on this important matter. Stay tuned for more news as the story unfolds.