Chairman of the Board of Directors "NK"Rosneft"And Chairman of the Board of Directors of Nortstream 2 (owned by Russian" Gosprom ") Heckhard Schrder He said that "The annexation of Crimea is a clear violation of international law".
Like writing German wave, Former President of Germany Schrder He first publicly criticized the Kremlin In an interview with the German weekly Der Spiegel, published on January 16th.
During the conversation, the journalist recalled Schrder as President of the Russian Federation from his book "Last Chance" Vladimir Putin "I crossed the impassable fort." Schrder made it clear that the phrase did not refer to the Russian president, but to the country as a whole.
"We know Putin is an important force in Russia, but we do not know if he is really responsible for everything that goes with Russia," he said.
Schrder recalled the occupation of Ukrainian Crimea, saying it was not clear what were the reasons behind Moscow's actions.
"Assume that Ukraine actually joined NATO as the Americans wished. Then Sevastopol, one of Russia's most important military ports, will be on the border of the Western Alliance," Schrder continued.
According to him, "Russia has no president Crimea will not be withdrawn".
Another example of the Russian Federation "crossing the line illegally" is that Schrder called for hacker attacks on Western governments, including the FRG.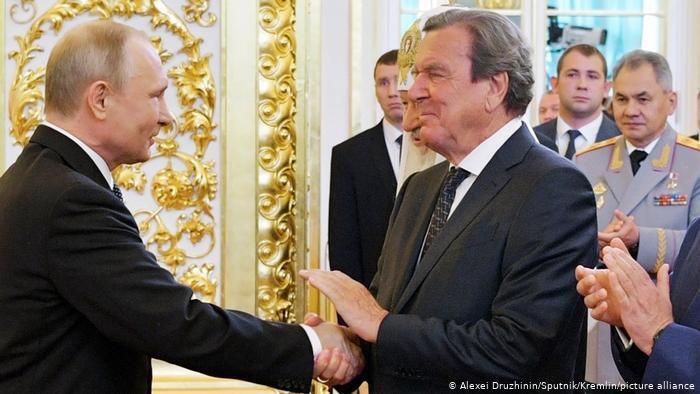 The previous Schrder began his podcast, as we will recall in the first issue Insulted Ukrainian Ambassador to Germany Andrei Melnik. Called him a "dwarf."
Ukrainian Ambassador Schrder repliedRemembers the Third Rice. Miller noted that the Ukrainians were "not forgotten, will not be forgotten, the Ukrainians were branded as Understanding – inhumane subjects subject to ruthless annihilation and slavery."
As previously announced OBOZREVATEL:
European Court of Human Rights declares Ukraine's complaint against the Russian Federation partially acceptable On human rights violations in occupied Crimea.

At the same time, the court ruled that in this case the Russian Federation was not called upon to determine whether the "permission" of the peninsula was legal from the point of view of international law under Russian law.

Minister of Foreign Affairs of Ukraine Dmitry Kuleba said that was the result of the ECHR Is a victory for our country.