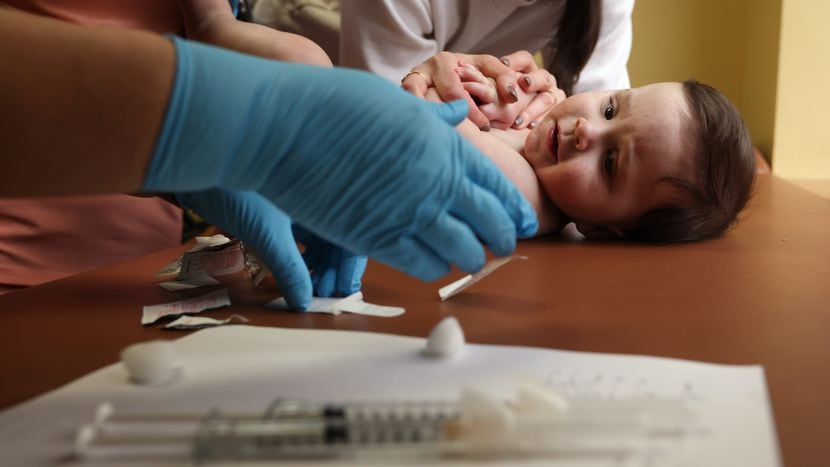 Title: Dallas-Fort Worth Pediatric Beds Reach Full Capacity as RSV Cases Surge
In a concerning development, hospitals in the Dallas-Fort Worth area are grappling with a significant surge in respiratory syncytial virus (RSV) cases and other respiratory illnesses, which has led to pediatric beds reaching full capacity. According to recent reports, more than 97% of pediatric beds in the North Texas region are currently occupied, resulting in overcrowding and long wait times for patients.
One hospital that is struggling to accommodate the influx of cases is Cook Children's in Fort Worth. With hundreds of children being treated for RSV and other respiratory illnesses, the hospital is operating at full capacity, forcing ICU patients to be held in the emergency department. Last week alone, more than 200 children tested positive for RSV at Cook Children's Fort Worth medical center, while the emergency department was handling around 500 patients per day.
The situation is not isolated to Fort Worth, as Children's Health in Dallas reported the highest RSV case count of the year. Compared to the previous week, there has been a staggering 31% increase in RSV cases, and a more than 134% increase since the week beginning October 8th.
Medical professionals have expressed concern that RSV cases are likely to worsen as winter progresses. While RSV infections are typically not life-threatening for most children and adults, they can result in complications for infants and older adults. It is particularly worrying that RSV is causing more severe complications this season compared to last year, placing additional strain on ICU beds at hospitals.
To alleviate pressure on emergency departments, patients are being urged to visit their pediatricians first for milder symptoms, thus avoiding long wait times. However, medical attention should be sought immediately if a child experiences difficulty breathing, persistent fever, or dehydration, as these may be signs of a more serious illness requiring emergency care.
Treatment for RSV, as well as the flu and colds, primarily involves supportive care at home along with medication to manage fever and congestion. Fortunately, new RSV protections have recently been approved. These include vaccines for adults over 60 and pregnant women, as well as a monoclonal antibody shot for infants. However, due to a nationwide shortage of the antibody treatment, the Centers for Disease Control and Prevention (CDC) has issued a health warning urging pediatricians to prioritize doses for high-risk babies.
The duration of the current RSV wave remains uncertain, and it is difficult to predict when the virus will reach its peak. In the meantime, it is worth noting that COVID-19 and flu cases in the area remain relatively low. Vaccination and booster options are available for those eligible, providing added protection against these viruses.
As the Dallas-Fort Worth region grapples with a surge in RSV cases leading to overwhelming pediatric bed occupancy, hospitals are urging vigilance and the adoption of preventive measures to curb the spread of respiratory illnesses among children and vulnerable populations.