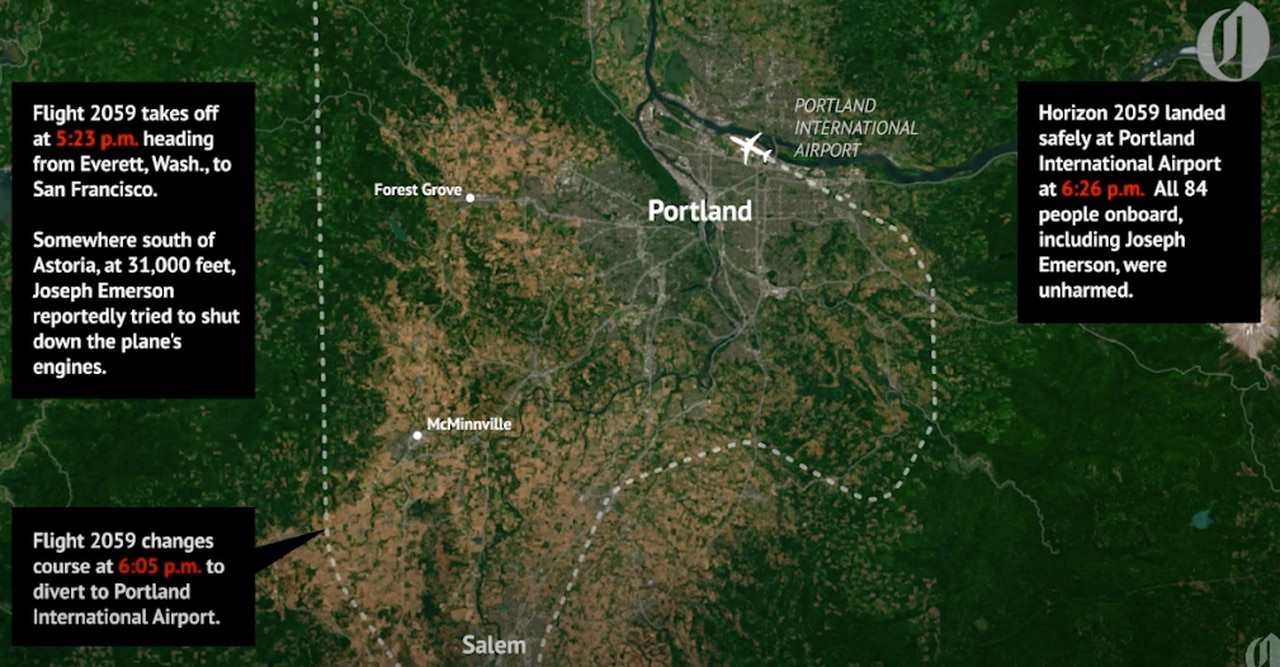 Off-Duty Pilot Attempts to Shut Down Engines of In-Flight Plane
An off-duty pilot, Joseph D. Emerson, caused panic on a Horizon Air flight on Sunday as he attempted to shut down the engines while the plane flew over Oregon. The incident, which occurred during the flight from Everett, Washington to San Francisco, has left passengers and authorities stunned.
Emerson, who was in the cockpit with pilots Alan Koziol and Emil Riemer, had been engaged in small talk with them during the flight. However, things took a terrifying turn when he suddenly threw his headset and announced, "I'm not okay." He then proceeded to try and shut off the fuel supply to the engines using the emergency fire handles.
In a heroic act, Koziol bravely wrestled with Emerson, while Riemer quickly declared an inflight emergency and diverted the plane to Portland. The details of the communications made during and immediately after the incident remain unclear. However, an audio recording has captured one of the pilots explaining the situation and urgently requesting law enforcement upon landing in Portland.
As the plane descended, Emerson left the cockpit and headed toward the back of the aircraft. There, he approached a flight attendant and instructed her to cuff him before he did something wrong. The situation escalated when Emerson attempted to grab the emergency exit handle. Luckily, the flight attendant intervened, preventing a potentially catastrophic outcome.
Fortunately, the plane landed safely in Portland, and Emerson was swiftly arrested by Port of Portland police. The incident has left both passengers and crew members shaken, as they grapple with the terrifying realization that their lives were in grave danger.
Following his arrest, Emerson claimed that he believed he was dreaming and experiencing a "nervous breakdown." He cited extreme fatigue, having not slept for 40 hours, and admitted to consuming psychedelic mushrooms two days before the flight. However, authorities are not taking these claims lightly.
Emerson now faces serious charges, including 83 counts of attempted murder and reckless endangerment. He is also accused of interfering with flight crew members and attendants. In a surprising twist, his wife has come forward to testify that her husband would never knowingly harm himself or others on the plane.
As the investigation continues, passengers and aviation industry experts are left with many questions about how an incident of this magnitude could happen. The focus now shifts to establishing stronger protocols to prevent similar situations in the future and ensure the safety and security of all those who fly.