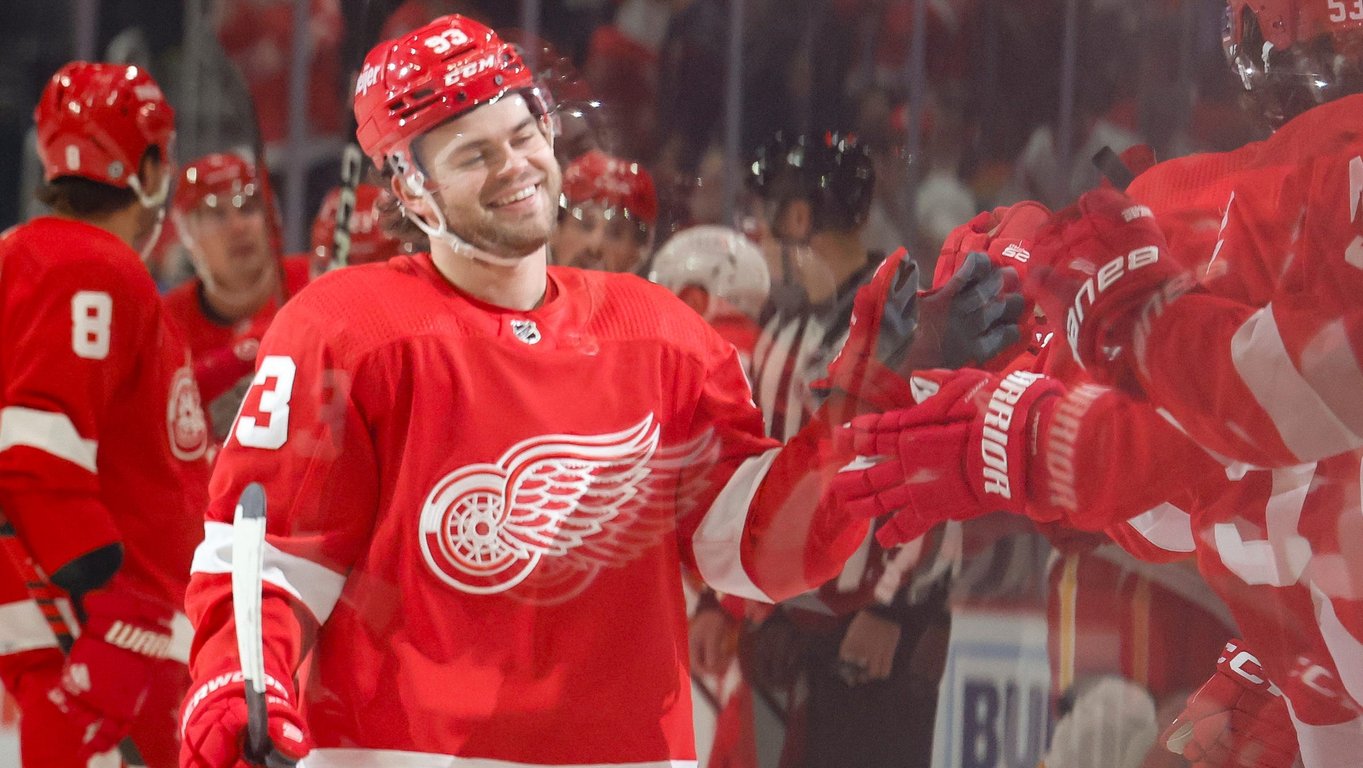 Detroit Red Wings Extend Winning Streak to Five Games with Dominant Victory over Calgary Flames
The Detroit Red Wings continued their winning ways with a resounding victory over the Calgary Flames, securing their fifth consecutive win. The Wings' dominant performance was spearheaded by Alex DeBrincat, who netted a sensational hat trick, leaving fans in awe and showering the ice with hats in celebration.
DeBrincat's stellar performance not only contributed to the team's victory but also propelled him to the top of the NHL scoring race with an impressive 12 points. The young forward showcased his skill and prowess on the ice, earning the admiration of fans and rivals alike.
Not to be outshined, Dylan Larkin put forth a strong performance, tallying 11 points for the season. Larkin's consistent offensive contributions have been an integral part of the Red Wings' success this season.
With a current record of 5-1-0, the Red Wings are off to an impressive start and are creating waves throughout the NHL. Their remarkable performance has earned them the top spot in the league, leading with an astounding 30 goals. Coach Derek Lalonde attributed the team's early success to a productive training camp, which laid the foundation for their remarkable start.
The victory over the Flames was a collective effort, with Joe Veleno and Jake Walman also contributing goals. However, it was defenseman Justin Holl who played a pivotal role, notching a goal and three assists while boasting an impressive plus-4 rating.
Captain Dylan Larkin continued to lead by example, adding another goal to his tally and recording his 10th point of the season. Larkin's consistent performances have solidified his position as a key player for the Red Wings.
Looking ahead, the Red Wings are set to face the Seattle Kraken in their next game at Little Caesars Arena. With their winning streak intact, the team aims to maintain their momentum and extend their impressive run of victories.
The Detroit Red Wings' dominance on the ice has caught the attention of fans, analysts, and NHL enthusiasts worldwide. Their strong start and commanding performances have sparked excitement and anticipation for what lies ahead in the season.