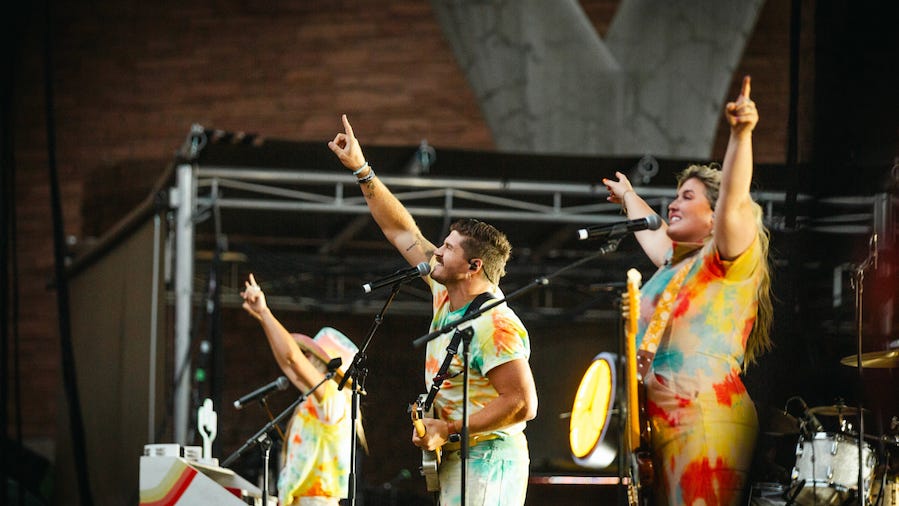 Taylor Swift's latest concert film, "Taylor Swift: The Eras Tour," has shattered box office records, grossing an astounding $96 million domestically for its opening weekend. The success of Swift's film has the potential to revolutionize the world of live concert films.
Following the immense triumph of Swift's concert film, Fathom Events and Educational Media Foundation are hoping to jump on the bandwagon with their own production, "K-Love Live at Red Rocks." This much-anticipated film is set to debut in a whopping 900 theaters nationwide.
"K-Love Live at Red Rocks" showcases captivating performances from a variety of artists, including MercyMe, Zach Williams, and Jeremy Camp, among others. The film also treats viewers to backstage footage, interviews, and behind-the-scenes content, promising an immersive and unforgettable experience.
Steve Gilreath, the producer behind "K-Love Live at Red Rocks," believes that Swift's remarkable achievement will shed light on the concert film format and generate interest in other musical productions. Gilreath hopes to capitalize on this newfound awareness and captivate audiences with his film's extraordinary offerings.
The decision to film "K-Love Live at Red Rocks" at the legendary venue was a no-brainer. Red Rocks, known for its unparalleled acoustics and breathtaking scenery, offers viewers an almost live concert experience, even from the comfort of their own homes.
Capturing the essence of the two-day live music extravaganza in a 90-minute film proved to be a daunting task, requiring hours of meticulous editing. However, the end result promises to encapsulate the magic and energy of the event, leaving audiences craving more.
Tickets for "K-Love Live at Red Rocks" are now available for purchase at Fathom Events and participating theater box offices. The highly-anticipated film is set to hit theaters on November 6th and 7th, leaving fans counting down the days until they can witness this unforgettable musical journey.
In conclusion, Taylor Swift's record-breaking success with "Taylor Swift: The Eras Tour" has paved the way for a new era of concert films. "K-Love Live at Red Rocks" aims to build upon Swift's achievement and offer audiences a captivating and immersive musical experience. With the film's release just around the corner, fans eagerly await the chance to be a part of this extraordinary event.