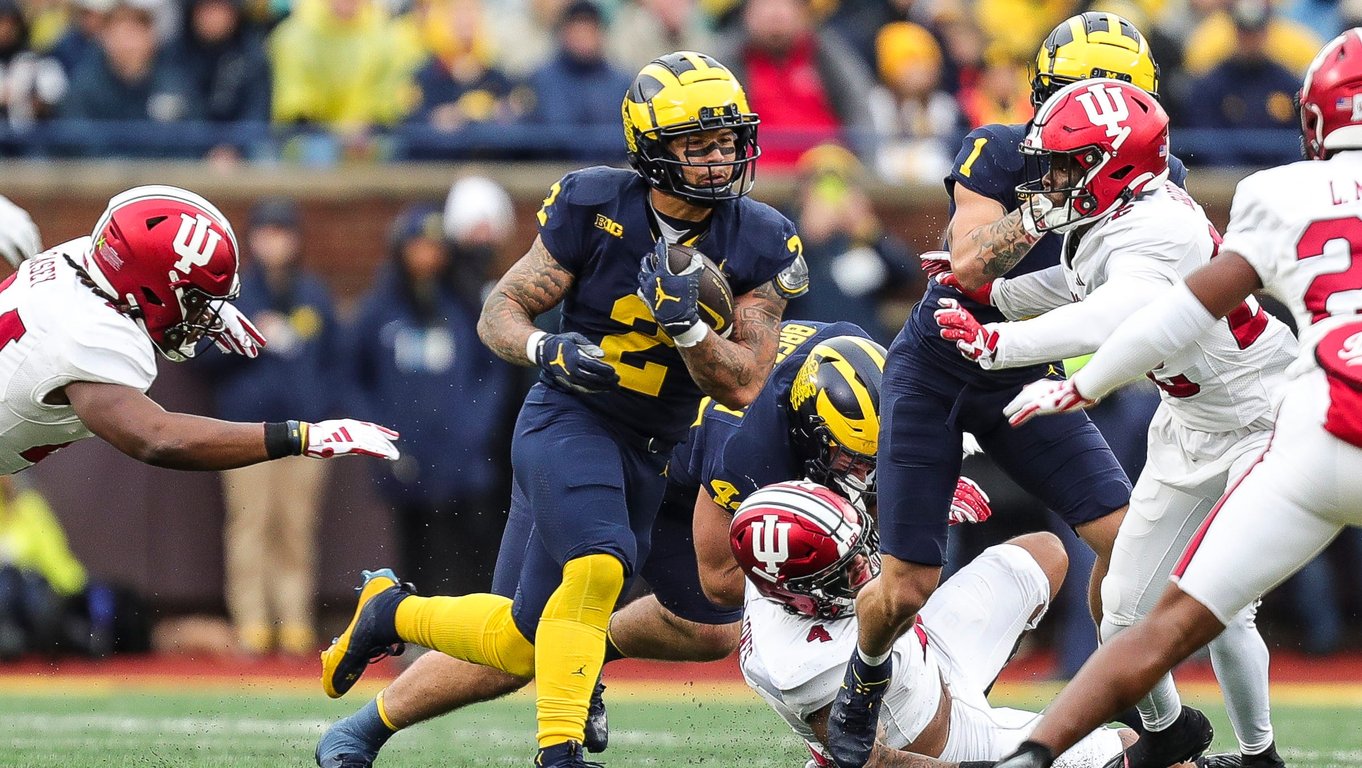 Title: Michigan Football Bounces Back with Dominant Win Against Indiana
Michigan football showed resilience and strength as they overcame early struggles to secure a dominant 52-7 victory against Indiana. The Wolverines started off on a shaky note, with their first two offensive possessions resulting in sacks, three-and-outs, and a disappointing punt that gave the Hoosiers favorable field position.
However, it didn't take long for Michigan to turn the tide. The team showcased their determination and skill, scoring an astonishing 52 unanswered points to leave Indiana in their wake. Leading the way was quarterback J.J. McCarthy, who once again delivered an impressive performance. McCarthy threw for 222 yards and three touchdowns, while also displaying his versatility by adding 27 rushing yards to his impressive statline.
McCarthy's exceptional ability was on full display during the game, making several highlight-reel plays that wowed the crowd. One of his standout moments was a perfectly executed shovel-pass to Donovan Edwards, showcasing his accuracy and ability to read the defense. McCarthy also connected with Colston Loveland for a touchdown pass, further solidifying his importance to the team's success.
Contributing to the offensive dominance was running back Blake Corum, who found the end zone twice and fueled Michigan's rushing attack. The team accumulated a total of 163 rushing yards and three touchdowns, highlighting their cohesiveness and determination to control the game.
Defensively, Michigan swiftly adjusted after allowing 141 yards in the first quarter. The Wolverines tightened their grip on Indiana's offense, limiting them to a mere 40 yards on their next seven possessions and forcing four turnovers. Demonstrating their ability to make critical plays, Rod Moore intercepted a pass, and the defense also caused multiple forced fumbles, leaving Indiana struggling to find their footing.
The victory against Indiana showcased a complete team effort from the Wolverines. Numerous players stepped up and made key contributions, emphasizing the depth and talent within the team. Notably, McCarthy's stellar performance pushed him closer to the top 10 on Michigan's career passing yards list, further solidifying his role as a key player for the future.
As Michigan continues its season, this impressive win against Indiana places them in a strong position. Their ability to rebound from a slow start and dominate their opponents serves as a testament to their mental toughness and determination to succeed. With their complete team effort on display, Michigan's football journey looks promising, and fans eagerly await their next matchup.