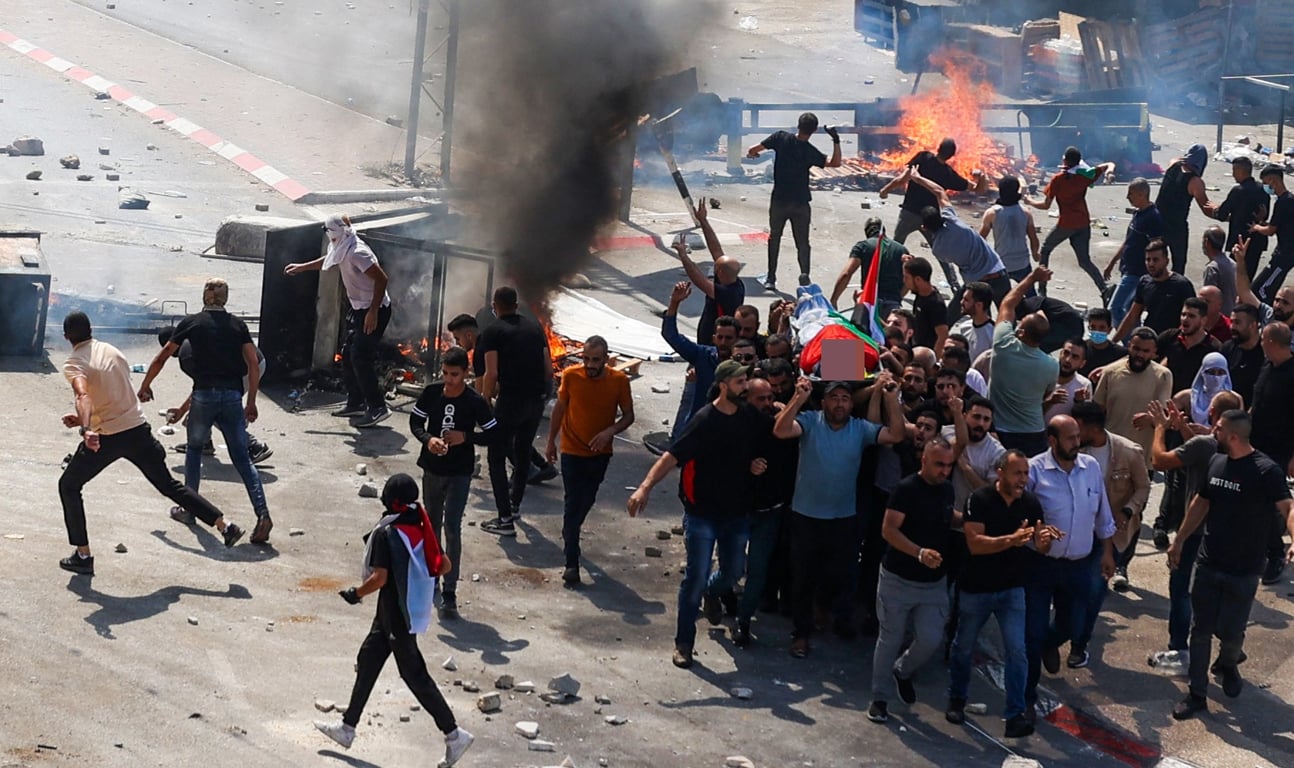 Title: Palestinian Man Killed in Surge of Settler Violence in West Bank
In a tragic turn of events, Labib Dumaidi, a Palestinian resident, lost his life in the town of Huwara as Israeli settler violence in the West Bank surges. The incident further escalates tensions in the region, already strained by ongoing clashes and conflicts.
Dumaidi sought refuge on the roof of his home, which was under assault from settlers, when he was fatally shot in the heart by a settler. The Israeli military has stated that a suspect was shot after allegedly throwing a brick at a vehicle but refrained from providing details about the victim's identity.
Eyewitnesses from the scene reported over 200 settlers gathering in Huwara, shouting, dancing, some with covered faces, and throwing stones at houses. What shocked the local residents even more was the alleged inaction of Israeli soldiers present, leading them to believe that settler militias are protected by the occupying soldiers.
This incident follows a concerning rise in settler violence against Palestinians in the West Bank, often occurring in the presence of Israeli soldiers. Only a day prior, a Palestinian gunman targeted an Israeli car in Huwara, a town surrounded by illegal Israeli settlements.
The killing of Dumaidi has been vehemently condemned by the Palestinian Ministry of Foreign Affairs as a heinous crime. However, during Dumaidi's funeral procession, Israeli forces intensified tensions by using tear gas, rubber-tipped bullets, and live fire, leading to the injury of at least 51 Palestinians.
According to the United Nations, settler violence against Palestinians has dramatically increased, averaging three incidents per day for the first eight months of 2023. Shockingly, Israeli authorities rarely hold settlers accountable for such acts, generating a belief among Palestinians that this violence is part of a larger campaign to forcibly remove them from their land.
Huwara itself has been a hotspot for settler violence, previously witnessing a mob rampage after the killing of two Israeli brothers by a Palestinian. Adding fuel to the fire, Israel's far-right Minister of Finance, Bezalel Smotrich, made controversial statements suggesting the destruction of Huwara following the incident, exacerbating tensions in the area.
The continued surge in settler violence and the perceived protection provided by Israeli soldiers not only poses a threat to the safety and well-being of Palestinians but also hampers the prospects of peace and stability in the West Bank. Such incidents highlight the urgency for both Israeli and Palestinian authorities to address the underlying causes of violence and foster a climate of mutual understanding and respect.