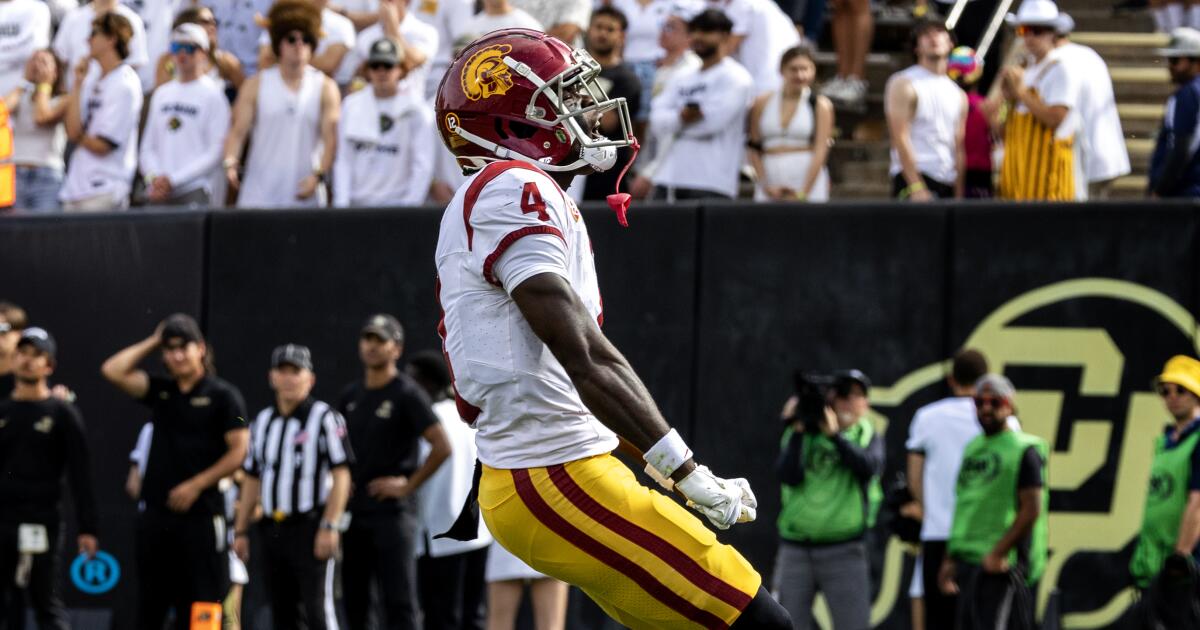 Title: USC Defeats Colorado in Thrilling College Football Game, Caleb Williams Shines
USC asserted its dominance on the football field once again as they triumphed over Colorado, sealing a thrilling 48-41 victory in a college football showdown. The game, held at Folsom Field, drew attention from celebrities and broke attendance records, making it a memorable occasion for fans.
The star of the game was USC's talented quarterback, Caleb Williams, who showcased his exceptional skills, leading his team to victory. Williams threw a remarkable 403 passing yards and six touchdowns, solidifying his status as the driving force behind USC's success. His outstanding performance stood out, even though the USC defense struggled throughout the game.
Colorado's quarterback, Shedeur Sanders, son of renowned head coach Deion Sanders, also put on an impressive show, throwing for 371 yards and four touchdowns. Sanders' exceptional abilities hinted at a bright future for the Colorado team, attracting significant attention from celebrity spectators including Paul Pierce, Kevin Garnett, Aaron Gordon, and CC Sabathia.
While USC's win extended their undefeated streak against Colorado to 17 games, critics were quick to point out the team's shortcomings. USC's defense struggled in the second half, allowing Colorado to make a remarkable comeback that kept fans on the edge of their seats until the final minutes. The lackluster performance on the road and falling rankings brought criticism upon the team.
Despite the defensive struggles, Caleb Williams stood out as USC's standout player, leading the team to victory. His exceptional display of skill and leadership further solidified his reputation as a force to be reckoned with.
The game witnessed a record-breaking crowd at Folsom Field, with the attendance enhanced by the presence of celebrities. The VIPs donned special Prime Passes, adding a touch of glamour to the already electrifying atmosphere.
As the game neared its end, with USC sealing the victory in the final minutes, Colorado fans showed their disappointment by chanting "over-rated." The intense rivalry between the two teams heightened the emotion of the moment, showcasing the passion of college football.
Overall, USC's triumph over Colorado in this thrilling college football game provided spectators with an unforgettable experience. Caleb Williams' exceptional performance highlighted his status as a top player, despite USC's defensive struggles. The attention drawn by celebrities and the record-breaking crowd demonstrated the impact of college football and the loyalty of its fans.