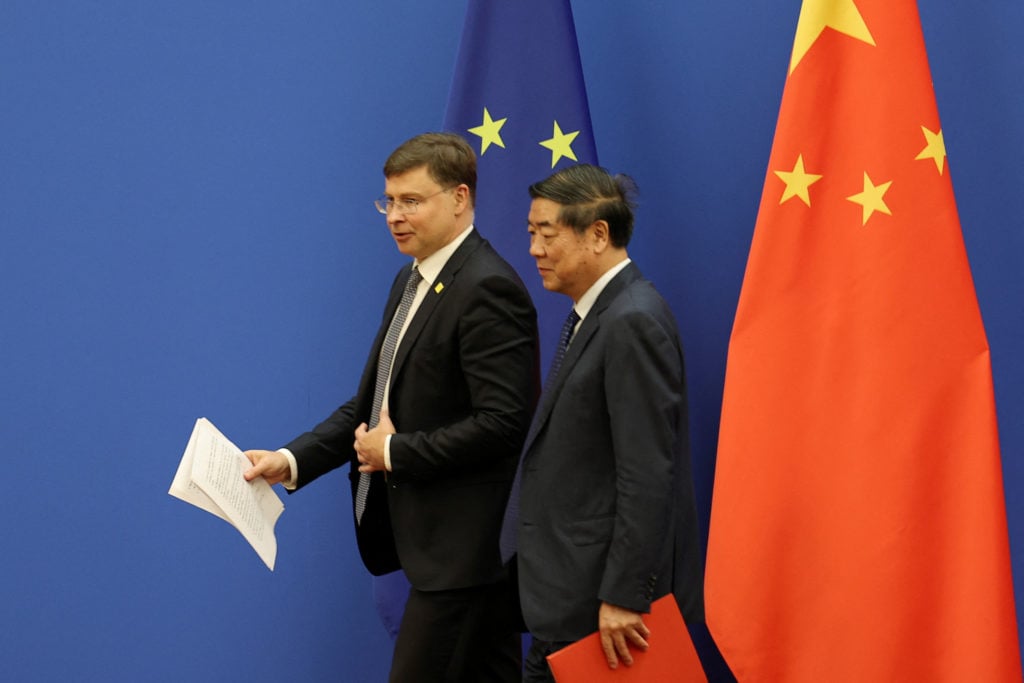 Title: EU Trade Commissioner Calls for Balanced Economic Relationship with China Amidst Concerns
The European Union's trade commissioner, Valdis Dombrovskis, has expressed the need for a more balanced economic relationship with China, drawing attention to the EU's substantial trade deficit of nearly 400 billion euros ($425 billion). In a speech at China's Tsinghua University, Dombrovskis underscored the significance of China's position on the war in Ukraine, suggesting it could jeopardize its relationship with Europe.
Dombrovskis' remarks come as EU leaders express growing concern over the bloc's increasing trade deficit with China, which reached a staggering 396 billion euros last year. European Commission President Ursula von der Leyen recently launched an investigation into suspicions of Chinese subsidies to electric vehicle makers, intensifying worries among EU leaders.
Addressing the lack of reciprocity in the economic relationship, Dombrovskis highlighted certain issues such as a lack of transparency, unequal access to procurement, and discriminatory standards and security requirements that hinder fair competition. Calling for a level playing field, he stressed the need to rectify these concerns.
In response, Chinese Foreign Ministry spokesperson Wang Wenbin reassured that China provides a market-oriented, law-based business environment for foreign companies. Wang emphasized that as long as companies respect and operate within the law, there would be no cause for concern.
China has been actively seeking foreign investment to stimulate its sluggish economy. However, Dombrovskis emphasized that China's support for Russia's war against Ukraine contradicts its core principles of territorial integrity. This contrasting stance could further strain the relationship between the EU and China.
Dombrovskis delivered his remarks ahead of high-level economic and trade talks with Chinese Vice Premier, He Lifeng. His speech called for a much-needed rebalancing of the economic relationship between the EU and China, underlining concerns regarding the significant trade deficit and China's stance on the war in Ukraine.
EU leaders hope that by raising these concerns and highlighting the need for a fair and balanced economic relationship, progress can be made towards resolving the trade imbalance and fostering a mutually beneficial partnership between Europe and China.