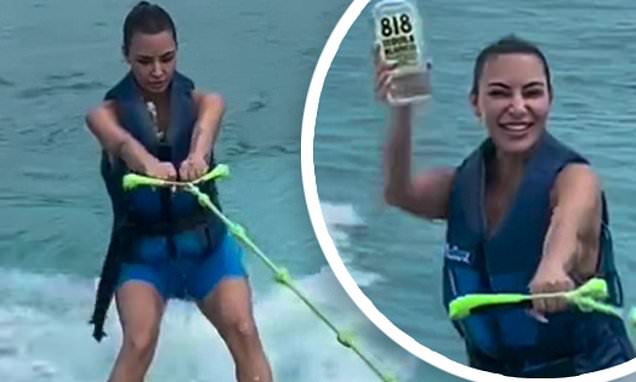 Kim Kardashian's recent tropical getaway took a hilarious turn when she decided to promote her sister Kendall Jenner's 818 tequila on a wakeboard. The reality star demonstrated her athletic skills by confidently maneuvering on the wakeboard before revealing the hidden bottle of liquor she had stored in her life jacket.
However, the fun took a humorous twist when Kim unexpectedly lost her balance and fell into the water, much to the amusement of those watching. The boat quickly circled back to retrieve her, but Kim was seen smiling and holding up the bottle, showing her dedication to promoting Kendall's tequila even in the midst of a wipeout.
Not one to shy away from sharing funny moments on social media, Kim shared the video on her Instagram account, captioning it with a playful message urging her followers to "Save the @drink818 at all costs!" Kendall Jenner, the owner of the 818 tequila brand, commented on the video, expressing her admiration for Kim's sportsmanship and appreciating the shout-out.
In a show of family support, Kris Jenner, the famous family's matriarch, also got in on the fun, leaving laughing emojis in the comment section.
Interestingly, Kim posted the video just minutes before debuting a bold new buzz haircut for the cover of CR Fashion Book. She shared black and white photos from the shoot, showcasing her edgy new look and posing in various stylish outfits.
Kim expressed her gratitude to Carine Roitfeld, the editor-in-chief of CR Fashion Book, for including her in the 10-year anniversary issue and for being a continued source of inspiration. This isn't the first time Kim has graced the cover of CR Fashion Book; she previously appeared on the magazine's first cover in 2013, shot by the late Karl Lagerfeld.
The shoot marked an important moment in Kim's life, as she was expecting her first child, North West, with her then-fiancé Kanye West.
Overall, Kim's adventurous spirit and commitment to supporting her sister's business venture have provided some light-hearted entertainment for her fans and followers. Whether she is promoting tequila on a wakeboard or debuting a daring new look, Kim consistently keeps her audience entertained with her bold and glamorous lifestyle.