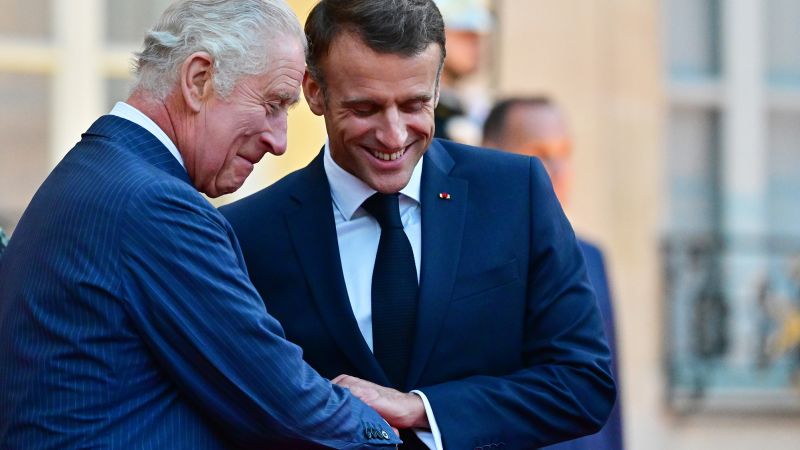 Title: King Charles and Queen Camilla Wrap Up State Visit to France, Reinvigorating French-UK Relationship
Word Count: 348 words
In a bid to strengthen ties between the United Kingdom and France following Brexit, King Charles and Queen Camilla concluded their state visit to France with their final day spent in the vibrant city of Bordeaux. The royal visit had initially been postponed due to the ongoing protests against pension reforms that left Bordeaux among the worst-affected cities.
As part of the visit, King Charles and Queen Camilla were warmly welcomed with an extravagant display of pageantry and a friendly meeting with President Macron. Their visit was seen as a crucial step in resetting relations between the two nations, post-Brexit.
During his visit, King Charles delivered a powerful speech at the French Senate, emphasizing the historical bonds between the UK and France. His eloquence and passion earned him a standing ovation, further showcasing his expertise in crafting compelling speeches. In an effort to address global concerns, King Charles also highlighted his solidarity with Ukraine against Russian aggression and reiterated his commitment to combating the climate crisis.
It is worth noting that the King's focus on environmental issues during state visits is expected to continue, aligning with his long-standing commitment to sustainability. However, the decision to fly between Paris and Bordeaux drew criticism from some quarters. Palace officials defended the move, citing security reasons for the change in plans.
The visit garnered significant attention from French news media, which extensively covered the royal couple's activities. The coverage emphasized the visit's importance in revitalizing the French-UK relationship and highlighted the positive impact it could have on future collaborations, trade, and cultural exchanges.
Overall, the state visit of King Charles and Queen Camilla to France succeeded in fostering closer ties between the two countries. The trip served as a significant effort to reset relations amidst the ever-evolving political landscape, with King Charles' focus on green issues demonstrating his commitment to addressing global challenges and promoting sustainability. As the royal couple returns to the UK, their visit leaves a lasting legacy in the hearts of both French and British citizens, promoting a sense of unity, diplomacy, and international cooperation.