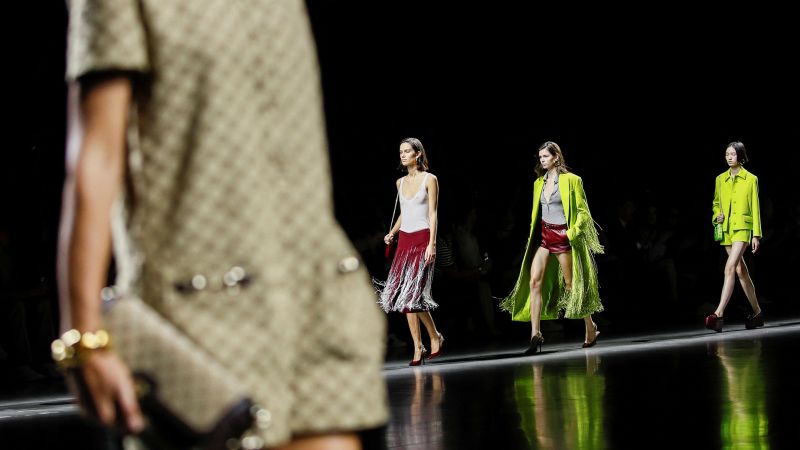 Gucci's highly-anticipated debut under new creative director, Sabato de Sarno, certainly did not disappoint at Milan fashion week. Despite facing last-minute challenges, de Sarno remained composed and confidently presented his collection titled "Gucci Ancora."
The show venue was changed less than 24 hours before the show due to rain, with the event moving from Brera to the Gucci Hub. However, the last-minute change did not dampen the spirits of the attendees, who eagerly awaited the unveiling of de Sarno's reinvention of Gucci codes.
The collection showcased a range of eye-catching and stylish pieces. Tailored short suits, patent babydoll dresses, metallic fringed skirts, pencil skirts, grey hoodies, sailor-style knits, and bejeweled collars were all featured in the collection. Additionally, iconic Gucci bags such as the webbing, Bamboo, and Jackie bags made appearances, adding a touch of familiarity to the runway.
Oxblood red emerged as the dominant color throughout the collection, drawing inspiration from The Savoy hotel in London where Guccio Gucci once worked. Platform loafers with the iconic horsebit detail also became standout items, adding a fashionable and trendy touch to the overall aesthetic.
De Sarno described the collection as a story of desirable objects that enrich everyday life. Contrary to initial predictions, the style was more elegant and sophisticated rather than highly sexualized. With references to past Gucci campaigns and the brand's archive, de Sarno successfully catered to Gucci fans spanning several decades.
The collection undoubtedly offered a highly shoppable wardrobe, allowing fashion enthusiasts to incorporate Gucci's latest creations into their own personal style. Overall, de Sarno's debut left a lasting impression, demonstrating his 20 years of experience in the industry and his ability to bring a fresh perspective to the iconic brand.