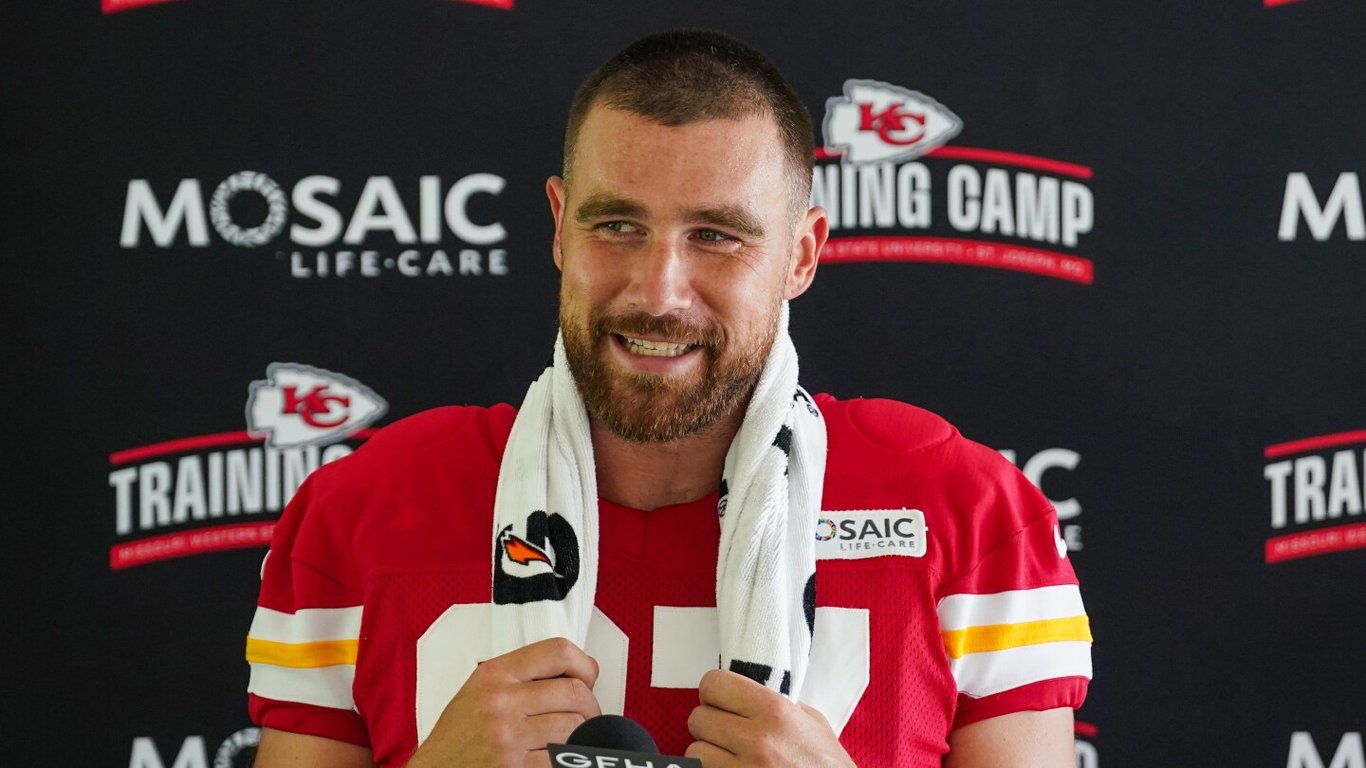 Title: Travis Kelce's Injury Casts Doubt on Season Opener Against Detroit
Kansas City Chiefs tight end Travis Kelce suffered a knee injury during Tuesday's practice, sparking concerns about his availability for the upcoming season opener against the Detroit Lions. The incident occurred when Kelce hyperextended his knee, with the Chiefs now monitoring his condition closely.
According to a recent report from NFL Media, Kelce's injury is not believed to be a long-term concern. This is an encouraging sign for both the player and the team, as Kelce's presence on the field is crucial for quarterback Patrick Mahomes and the Chiefs' offensive strategy.
The Chiefs are taking a cautious approach, allowing the swelling in Kelce's knee to subside before reevaluating his condition. In Tuesday's practice, Kelce was listed as a limited participant but managed to walk off the field under his own power, which is a positive sign.
However, uncertainty remains regarding Kelce's status for the season opener against the Lions. With such a short turnaround time, it is unclear whether he will be fit to play on Thursday. The team's medical staff and coaching staff are closely monitoring his progress and will make a final decision closer to game time.
The news that Kelce's injury is not deemed season-ending offers a glimmer of hope for Chiefs fans. The tight end had a remarkable season last year, recording an impressive 110 catches, 1,338 yards, and 12 touchdowns. Known for his athleticism and reliable hands, losing Kelce for an extended period would undoubtedly impact the Chiefs' offensive firepower.
While Kelce's absence would be a blow to the team, the Chiefs remain confident in their depth and ability to adapt. However, the tight end's unique skill set and rapport with Mahomes make him an integral part of the offense.
As the season opener draws near, all eyes will be on Kelce's recovery. Chiefs fans hope to see him back on the field soon, providing the team with his exceptional playmaking abilities. Meanwhile, the medical staff will continue to closely monitor his progress in determining whether he will be able to take the field on Thursday.
In the meantime, Chiefs fans and football enthusiasts alike will anxiously await further updates on Kelce's injury and his status for the highly anticipated season opener against the Lions.