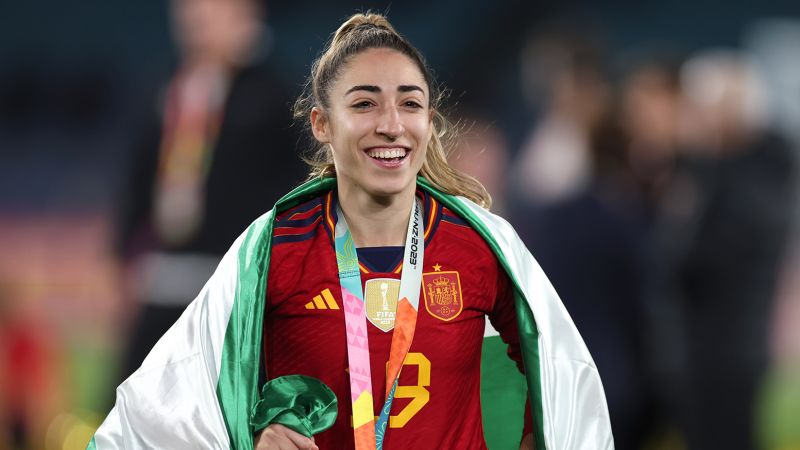 Spanish Women's World Cup Hero Overcomes Tragic Loss on the Brink of Victory
In a heartbreaking turn of events, Spanish Women's World Cup hero, Olga Carmona, experienced both a career high and a deep loss within hours. According to the Royal Spanish Football Federation (RFEF), Carmona learned of her father's death shortly after the game, leaving her in an unimaginable state of sorrow.
Following her game-winning performance, Carmona took to social media to pay tribute to her father, expressing how his support and strength propelled her to succeed in the final. Her goal, scored in the 29th minute, secured an astonishing victory for Spain, making them only the second country to claim both the men's and women's World Cup titles.
Amidst the triumph of her goal, Carmona's celebration carried a poignant tribute to her best friend's recently deceased mother. Lifting her shirt, she honored the memory of the loved ones who have passed, showcasing the emotional toll she carried onto the pitch.
In the wake of this devastating news, Real Madrid, Carmona's club, offered their heartfelt condolences to the player and her grieving family. This show of support highlights the close-knit nature of the football community and the solidarity within the sport.
Spain's World Cup victory, however, has not been without its fair share of challenges. The national team has been marred by disputes and divisions, with 15 Spanish players declaring themselves unavailable for selection last year due to unhappiness with the coach and team environment. Only three of those players were ultimately selected for the World Cup squad.
Despite these hurdles, Spain's women's team showcased extraordinary resilience and determination in their conquest for the coveted trophy. Their victory brings to the forefront key questions regarding the future of the exiled players and the overall setup of the national team. The Spanish Football Federation will now face the task of assessing the team's structure and addressing the concerns raised by the disgruntled players.
Olga Carmona's remarkable performance in the midst of personal tragedy serves as an inspiration to athletes and fans worldwide. Her strength and dedication encapsulate the unwavering spirit and resilience found within the world of sports.