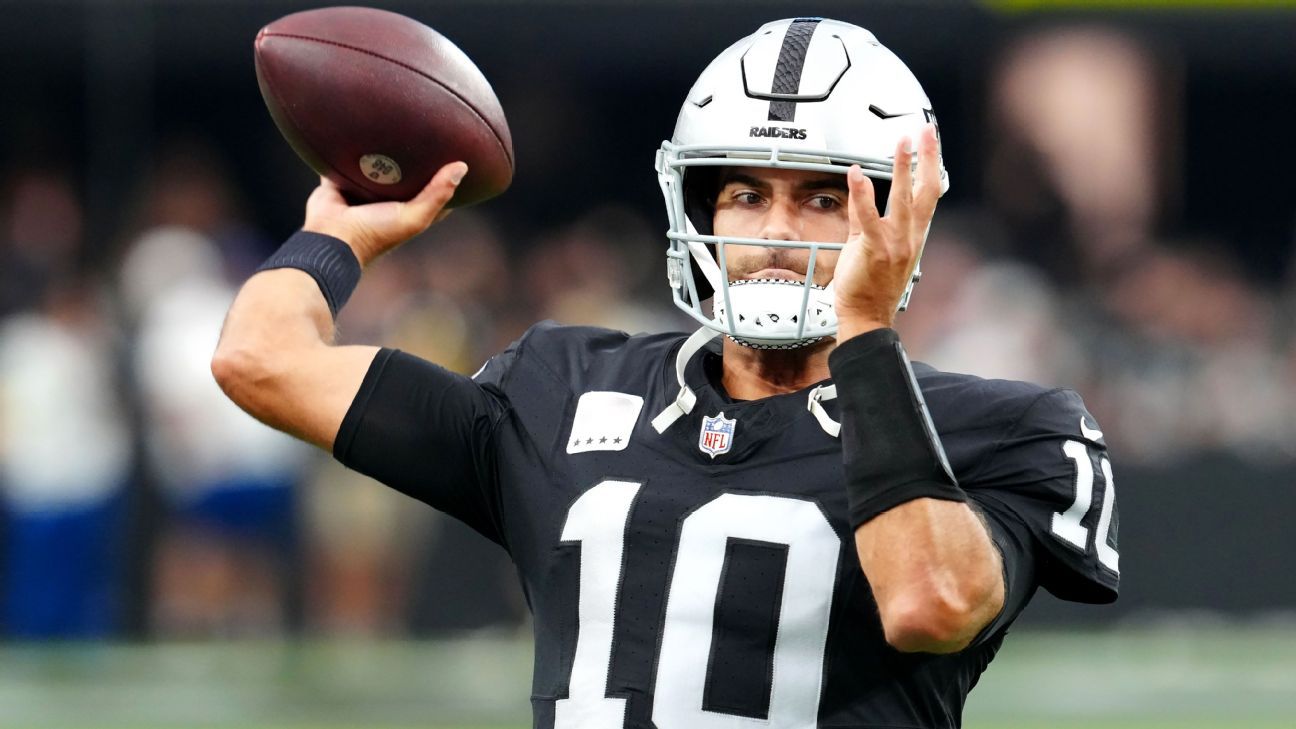 Title: Injuries Plague NFL Teams as Key Players Return in Week 4
In a stunning turn of events, the Green Bay Packers suffered a disappointing 34-20 defeat at the hands of the Detroit Lions, despite the return of key offensive players from injury. The Packers' hopes were dashed as running back David Montgomery dominated the field, scoring an impressive three touchdowns after sitting out Week 3 due to a thigh injury.
Meanwhile, the Las Vegas Raiders find themselves in a pickle as quarterback Jimmy Garoppolo might not be able to play on Sunday due to a concussion. This setback has forced the team to contemplate whether to rely on the rookie talent of Aidan O'Connell or the experience of veteran Brian Hoyer as a replacement signal-caller.
The Tampa Bay Buccaneers also face challenges as they may have to play their upcoming game without three defensive starters. This could seriously impact their defensive strategy and test their depth on the field.
On the injury front, several notable players are expected to make a comeback in Week 4. Rookie quarterbacks Bryce Young of the Panthers and Anthony Richardson of the Colts are set to return after missing last week's games. Their presence is eagerly awaited and could potentially turn the tide for their respective teams.
Injuries continue to plague the league as San Francisco 49ers wide receiver Deebo Samuel is dealing with rib and knee issues, Miami Dolphins pass rusher Jaelan Phillips is recovering from an oblique injury, and Pittsburgh Steelers offensive lineman Kevin Daniels is grappling with a groin strain. The Tampa Bay Buccaneers are also dealing with injuries to defensive backs Cameron Dean and Sean White, adding to their defensive concerns.
Baltimore Ravens fans will be disappointed as wide receiver Odell Beckham Jr. will miss yet another game due to an ankle injury. Likewise, the Jacksonsville Jaguars are waiting with bated breath to learn if wide receiver Jamal Agnew, who is nursing a thigh injury, will be fit to play. The Atlanta Falcons' hope for a successful return of wide receiver Cordarrelle Patterson is overshadowed by the uncertainty surrounding his offensive role due to a lingering thigh injury.
The Los Angeles Rams remain unsure about the availability of running back Darrell Henderson Jr., who is dealing with a hamstring issue, while the New Orleans Saints will miss the services of safety Jevon Howden due to a finger injury, adding to their troubles in the secondary.
Lastly, the Seattle Seahawks face a potential challenge with offensive tackle Stone Cross likely to be ruled out for Monday's game against the New York Giants due to a toe injury. With the team relying on backup tackles for the third consecutive game, the Seahawks will need to dig deep to secure a victory.
As Week 4 approaches, injuries continue to cast a shadow over several NFL teams, raising questions about their ability to perform at their best. Fans remain hopeful that their respective teams can overcome these obstacles and emerge victorious in their upcoming matchups.