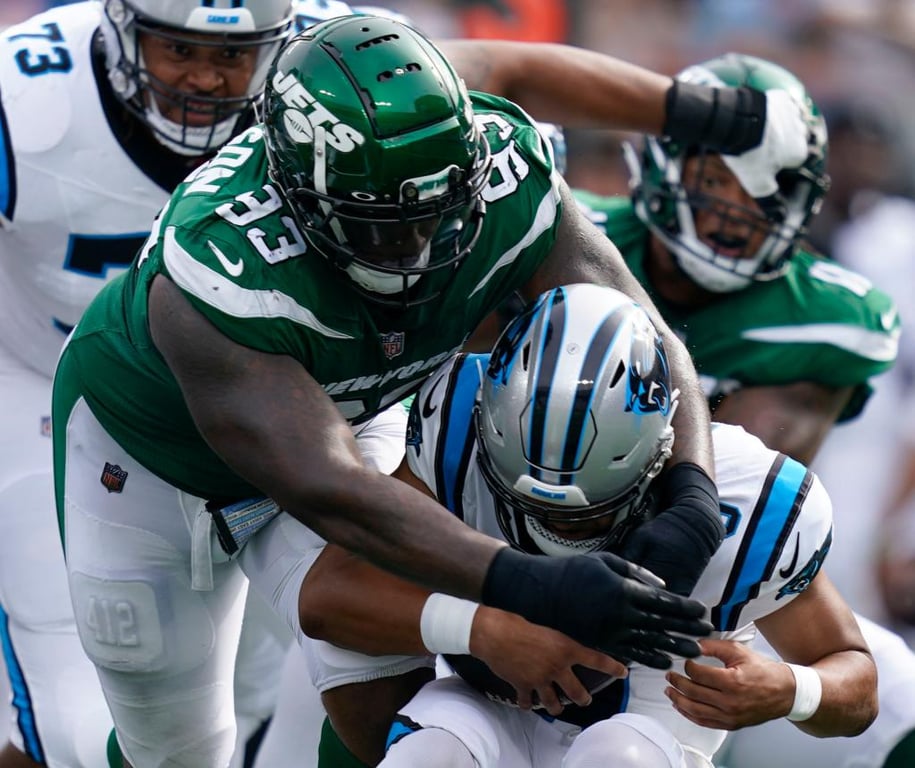 Title: Jets' Depth Shines in Preseason Win Against Panthers Despite Defensive Line Injuries
Subtitle: Coach Saleh highlights the team's passion and teamwork as key factors in victory
In a remarkable display of depth and resilience, the New York Jets showcased their defensive prowess in a preseason victory over the Carolina Panthers. Despite missing four key defensive linemen, the Jets' backup players stepped up and delivered an impressive performance.
The Jets' defensive line left a lasting impact on the Panthers' offense, applying relentless pressure throughout the game. Recording eight quarterback hits and five sacks, they demonstrated their ability to disrupt plays and stifle the Panthers' progress. Contributing to this defensive dominance were players like Quinton Jefferson, Will McDonald, Bruce Hector, Deslin Alexandre, Jermaine Johnson, and Bryce Huff, who all made crucial plays with their sack contributions.
Head coach Robert Saleh commended the unit's passion and teamwork, emphasizing the significant impact they had on the team's overall performance. The depth exhibited by the Jets in this game showcased the team's ability to overcome adversity and maintain a high level of play.
Zach Wilson, the Jets' backup quarterback, couldn't help but express his admiration for the defensive line. Wilson described them as intense and well-trained, recognizing the pivotal role they played in securing the victory. Their ability to create opportunities for the offense, by regularly pressuring the Panthers' quarterback, made a significant impact on the outcome of the game.
The Jets' offensive tackle Mekhi Becton enjoyed an increased playing time during the game, demonstrating his improvement and newfound confidence. Compared to previous matches, Becton saw a significant increase in snaps, and head coach Saleh was quick to praise his perseverance and willingness to exceed the planned workload. Becton's development and determination on the field bode well for the Jets' offensive line as they prepare for the upcoming regular season.
Unfortunately, the game was not without its setbacks. Tight end Jeremy Ruckert sustained a left shoulder injury, specifically an AC joint injury. However, Saleh remained optimistic about Ruckert's prognosis, assuring fans that the injury would not be severe enough to hinder his long-term performance.
The Jets' impressive preseason win against the Panthers not only highlighted the depth of their roster but also underscored the team's ability to remain resilient in challenging circumstances. As the regular season approaches, the Jets will undoubtedly look to build upon this impressive performance, harnessing their depth and teamwork to overcome any obstacles that come their way.