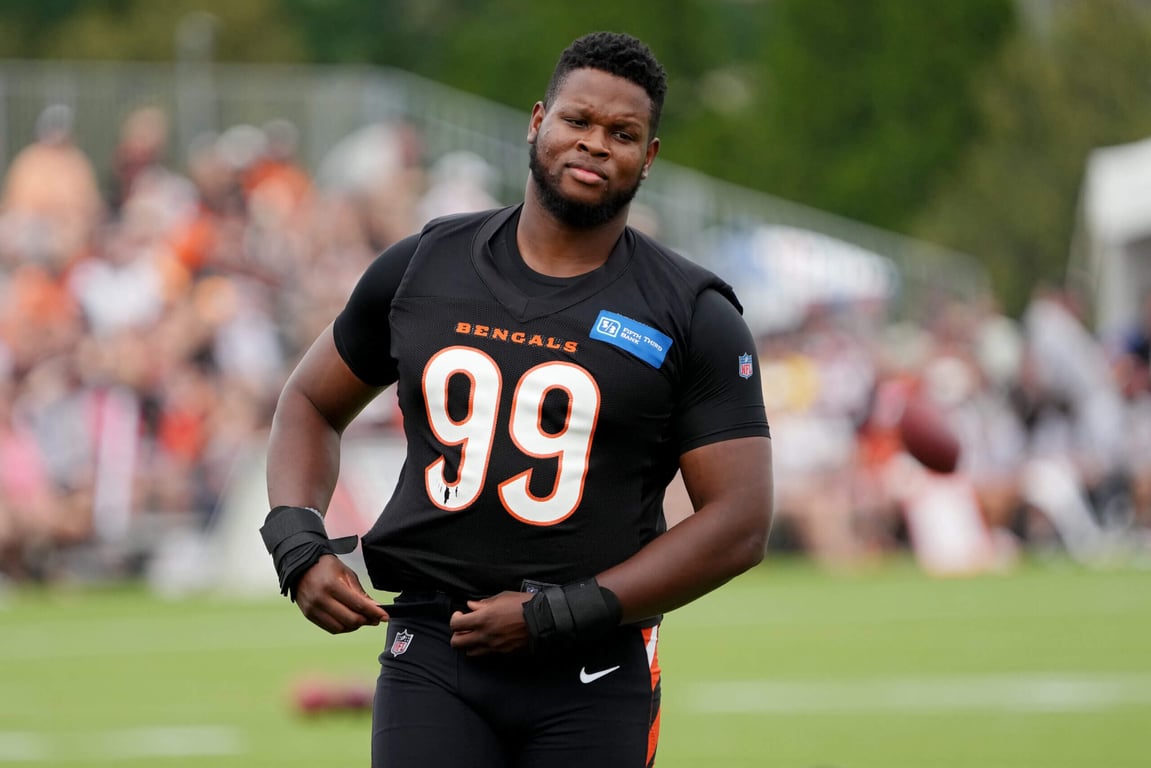 Cincinnati Bengals Gear Up for Preseason with Joint Practice Against Green Bay Packers
As the football season draws near, the Cincinnati Bengals are ramping up their preparations by engaging in a joint practice against the Green Bay Packers before their preseason opener. This practice session will provide the Bengals with an opportunity to fine-tune their strategies and team dynamics.
One crucial aspect that the Bengals are focusing on is evaluating their rookie class. These young players have already made their first impressions, and now the coaching staff will assess their performances and determine their roles within the team. Head coach Zac Taylor stressed the significance of maintaining discipline and adhering to daily routines in order to achieve success.
One standout rookie, edge Myles Murphy, the team's first-round pick, has been making an impact during practices. Although he has mainly played with the second team, he has also been utilized in third-down packages, showcasing his versatility and potential to contribute to the team's defense.
Another rookie, cornerback DJ Turner, has been rotating with Sidney Jones and has displayed great athleticism. Turner has the potential to become a playmaker for the Bengals with his impressive skill set.
In terms of injuries, safety Jordan Battle suffered an early setback in training camp. However, he has now resumed practicing and will likely make an appearance in the upcoming joint practice against the Packers, providing the team with a much-needed boost in their defensive lineup.
Wide receiver Charlie Jones has been showing signs of improvement in recent days, making notable catches during practice. Unfortunately, he injured his shoulder, raising concerns about his availability for the preseason opener.
Running back Chase Brown has caught the attention of the coaching staff with his burst and agility on the field. However, his ball security issues remain an area of concern that needs to be addressed before the regular season begins.
On the offensive side, wide receiver Andre Iosivas has been a pleasant surprise in training camp. He has consistently made plays and demonstrated his athleticism, making him a player to watch as the preseason progresses.
Special teams have not been left out either, as punter Brad Robbins has been impressing the coaching staff with his powerful and accurate kicks. His ability to provide the team with more distance when needed may prove to be a valuable asset in games.
Lastly, cornerback DJ Ivey, a seventh-round pick, has been making significant plays during training camp, putting himself in a favorable position to secure a spot on the team's roster. Similarly, offensive lineman Jaxson Kirkland, an undrafted free agent, has caught the attention of the coaching staff with his size and fit within the team's offense, making him a potential candidate for the final 53-man roster.
As the Bengals gear up for their preseason opener, all eyes will be on these rookies and standout players as they continue to make their mark on the team. The joint practice against the Green Bay Packers will offer valuable opportunities for the Bengals to assess their strengths and weaknesses before the regular season kicks off.