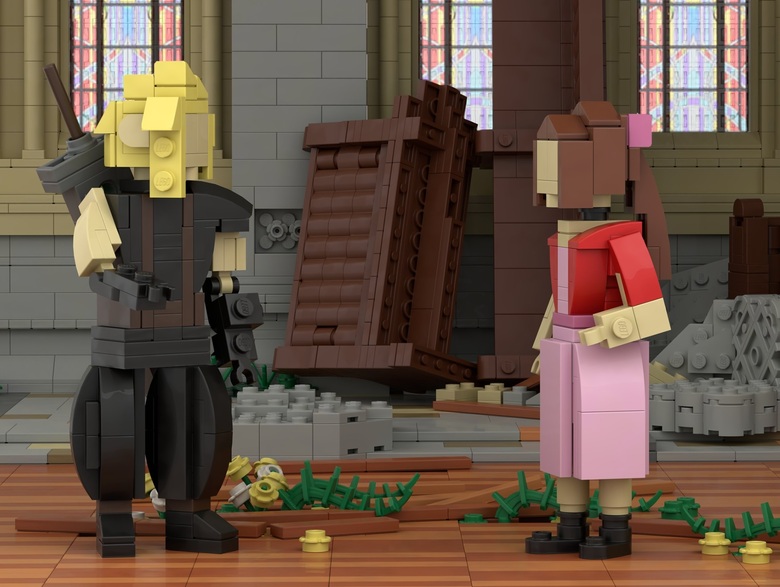 Square Enix, the popular video game developer, has announced exciting plans to collaborate with LEGO to create a special edition set based on the iconic Final Fantasy VII game. This news has taken the gaming community by storm, as fans embrace the chance to see their favorite game come to life in LEGO form.
In February, Square Enix invited fans to participate in the decision-making process by asking them to vote for their preferred scene from Final Fantasy VII to be transformed into a LEGO set. After much anticipation and excitement, the chosen scene has been revealed as the beloved 'Sector 5 Slums Church' scene.
Square Enix has not held back in their endeavor to bring this scene to life through LEGO. They have gone the extra mile by designing not one, but two versions of the LEGO set. This decision has been warmly received by fans, who appreciate the opportunity to choose between the different designs.
However, here comes the disappointing news. The Final Fantasy VII LEGO set will not be available for sale. Instead, Square Enix has decided to offer fans a chance to win one of the two sets through a special contest. To participate, fans need to follow Square Enix on their social media platform, X, and like and retweet their contest post. It's an enticing competition that has captured the imagination of fans worldwide.
To find out more about the contest and to enter, interested fans can visit Square Enix's official website. The website provides all the necessary information, rules, and guidelines for a chance to win the sought-after Final Fantasy VII LEGO set.
This exciting announcement has generated a wave of enthusiasm within the gaming community. Fans are eager to get their hands on this exclusive LEGO set and recreate the memorable 'Sector 5 Slums Church' scene in their own homes. With Square Enix's collaboration with LEGO, it seems that the worlds of gaming and building bricks have truly come together in a delightful and unexpected way.