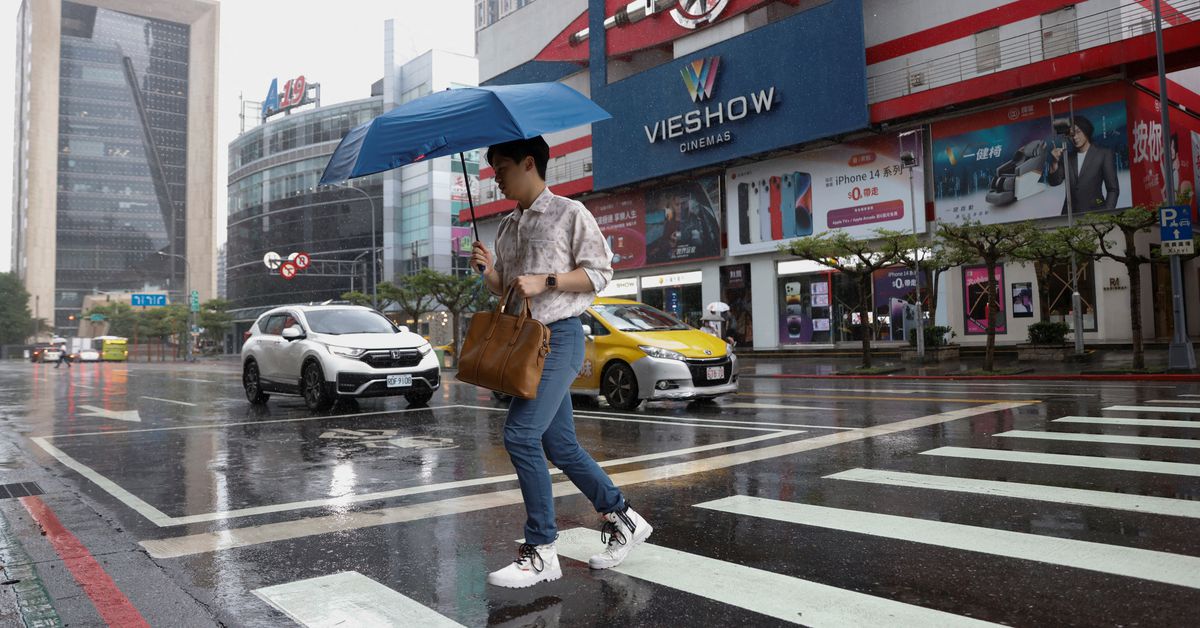 Title: Typhoon Khanun Approaches Northern Taiwan, Prompting Closures and Disruptions
Northern Taiwan is preparing for the arrival of Typhoon Khanun, which is expected to bring strong winds and heavy rainfall to the region. With maximum winds reaching 198 kph, authorities have taken precautionary measures to ensure the safety of residents.
Currently, the eye of the typhoon is approximately 340 km off the coast of Taipei, moving westward at a slow pace. Experts predict that the storm will brush past Taiwan's northern coast before making a sharp turn northeast, bringing persistent heavy rain to the area.
As a result, cities in northern Taiwan, including the capital Taipei, have decided to shut down businesses and schools. The aim is to minimize potential risks and allow residents to seek shelter in the face of the approaching typhoon.
Transportation has also been significantly affected, with over 110 international and domestic flights being canceled. Additionally, all domestic ferry lines have been suspended until further notice. These measures have been put in place to prioritize the safety of passengers and diminish the likelihood of any accidents or mishaps caused by adverse weather conditions.
In Taipei, rain and strong winds have already caused some damage, including fallen street signs and trees. Subsequently, subway services have been partially affected, causing inconvenience for commuters. Moreover, food delivery services have been suspended due to safety concerns.
However, there is some good news amidst the turmoil. Power has been restored to the vast majority of the 16,000 households initially affected by the storm. Utility crews have been working diligently to bring electricity back to the affected areas, ensuring that residents have the essential resources they need.
Before reaching Taiwan, Typhoon Khanun had already caused devastation in Okinawa, Japan. The storm has taken two lives and left at least 62 people injured. This highlights the urgency of advance preparation and awareness in dealing with the typhoon's potential impact.
It is worth noting that Typhoon Khanun arrives soon after the aftermath of Typhoon Doksuri, which hit Taiwan's southern region with heavy rains and strong winds just a week prior. These back-to-back storms underscore the importance of resilience and preparedness in combating extreme weather events.
Authorities are closely monitoring the situation as Typhoon Khanun gradually approaches northern Taiwan. The priority remains the safety and well-being of the residents, with precautionary measures being taken to minimize any potential risks. As the typhoon moves forward, it is essential for everyone in affected areas to stay informed and heed the instructions of local authorities for their own safety.