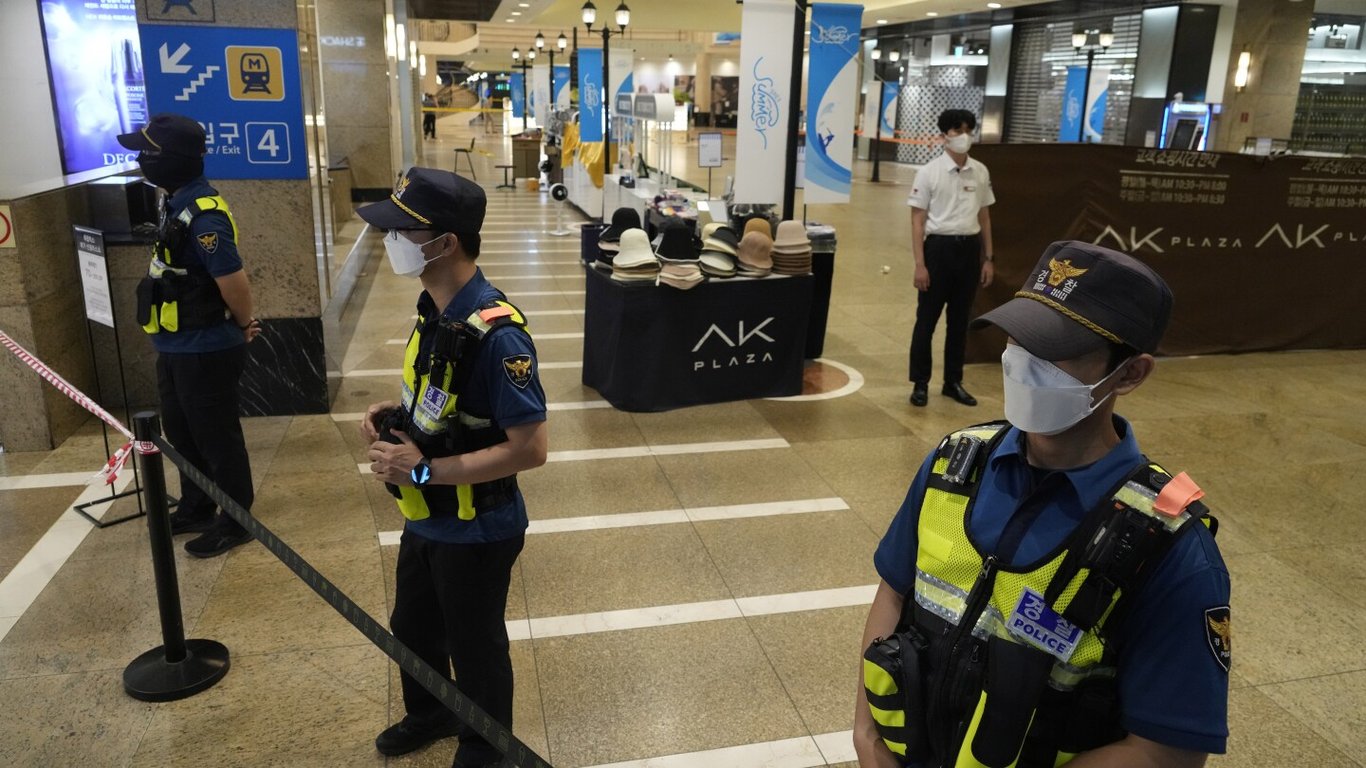 Title: Multiple Stabbing Incidents Shake South Korea, Leading to Calls for Stricter Measures
In a shocking series of events, South Korea has been hit by two separate stabbing incidents, leaving several people wounded and the nation on edge. The first incident took place in Seongnam, where a man rammed a car onto a crowded sidewalk before proceeding to stab shoppers at a local mall. At least 14 people have been reported injured as a result.
Reacting swiftly to the incident, South Korean President Yoon Suk Yeol called for "ultra-strong" law enforcement measures to tackle the rising violence. However, barely hours after his plea, yet another stabbing incident unfolded, this time at a high school in Daejeon city. While only one teacher was injured, details regarding the attack remain scarce.
Authorities quickly apprehended the suspect involved in the car ramming and stabbing incident, who is currently being questioned. His motives for the attack remain unknown. During police interviews, it was revealed that the suspect had a history of mental illness and claimed to be stalked by an unspecified source. However, there is no evidence suggesting that the attacks were premeditated.
These cases mark a distressing pattern for South Korea. Last month, the nation witnessed a mass stabbing attack in Seoul, resulting in the death of one person and injuries to four pedestrians. Consequently, President Yoon has urged for closer monitoring of social media, the deployment of more law enforcement officers, and the provision of better suppression gear.
The wounded victims from the recent attacks are currently receiving treatment, with some reported to be in critical condition. Eight out of the nine individuals stabbed are being treated for serious injuries. Forensic units meticulously examined the scene at the AK Plaza, where a damaged vehicle was found nearby, shedding light on the violent episode.
Witnesses described scenes of chaos, recounting screams and the sight of a man brandishing an object while shoppers and mall employees fled in panic. In response, the National Police Agency has convened a meeting to discuss preventative measures, such as increased patrols in leisure districts and crowded areas, as well as enhanced security camera surveillance.
As investigations into the motives behind these attacks continue, South Korea finds itself grappling with the urgent need to address this unsettling spate of violence. The nation's leaders and law enforcement agencies are determined to take substantial steps to prevent future incidents and ensure the safety of their citizens.