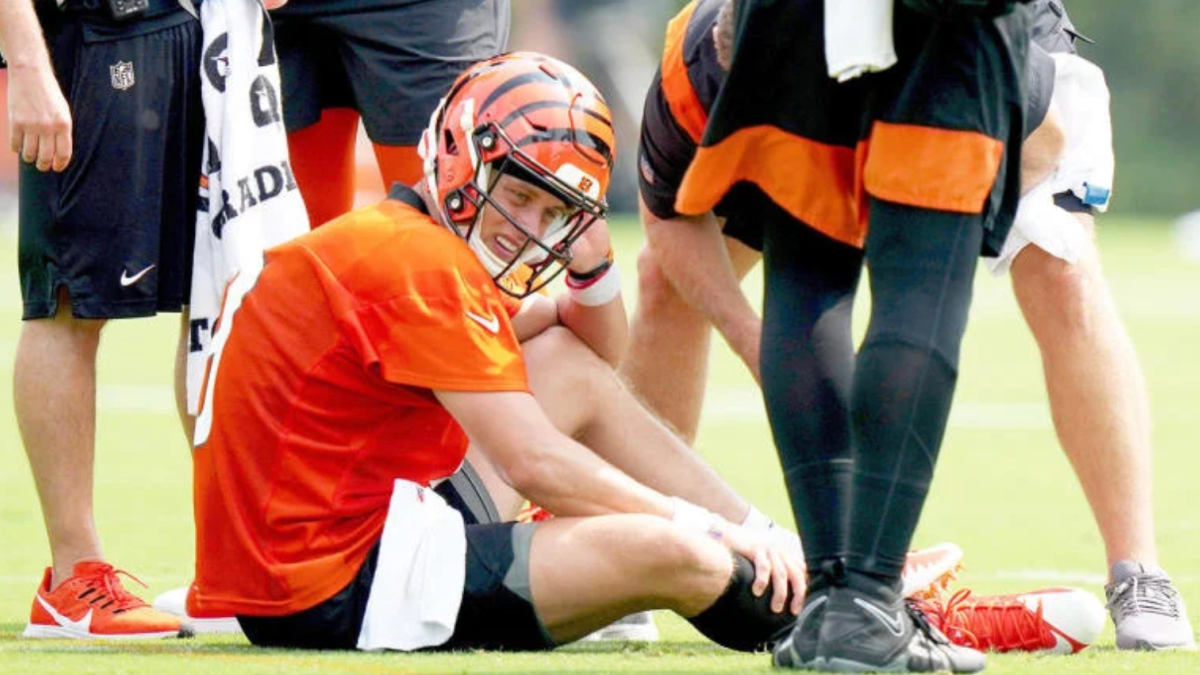 Title: Cincinnati Bengals Quarterback Joe Burrow Sidelined with Strained Calf, Bengals Look to Add Quarterback to Roster
Cincinnati Bengals' star quarterback, Joe Burrow, endured a non-contact injury during Thursday's training camp practice, leaving fans and the team concerned about his well-being. Burrow was carted off the field, grabbing at his lower leg in evident discomfort before being swiftly removed from the session.
Addressing the media after the incident, Bengals' head coach, Zac Taylor, confirmed that Burrow had suffered a strained calf and would be out of action for several weeks. The news came as a blow to the team, which is now frantically searching for a suitable replacement. Former XFL quarterbacks, Reid Sinnett and Drew Plitt, were called in for workouts as potential additions to the Bengals' roster.
According to sources within the organization, the Bengals have decided to sign Reid Sinnett, as reported by NFL Network. The team hopes that his experience and skillset will bring stability to the quarterback position in Burrow's absence.
Burrow's injury occurred while he was scrambling out of the pocket, putting into question the team's offensive capabilities without their star player. Wide receiver Ja'Marr Chase, a close friend of Burrow's and key target for the Bengals' offense, expressed his confidence in Burrow's recovery after receiving encouragement from the quarterback himself.
Observers noted that Burrow was seen wearing a sleeve on his injured leg, something he typically does not wear during practices or games. His reliance on this additional support led to speculation about the severity of the injury and how long his recovery might take.
Burrow's absence will undoubtedly be felt by the Bengals, as he is widely regarded as one of the best quarterbacks in the NFL and is crucial to the team's aspirations of making it to the Super Bowl. Without him, the Bengals' chances of success would significantly decrease, impacting not only the team but also the AFC North standings as a whole.
However, despite this setback, the Bengals remain hopeful that Burrow will make a swift recovery and quickly return to the field. The team is rallying behind their injured star, cheering for his speedy return to the game they love.