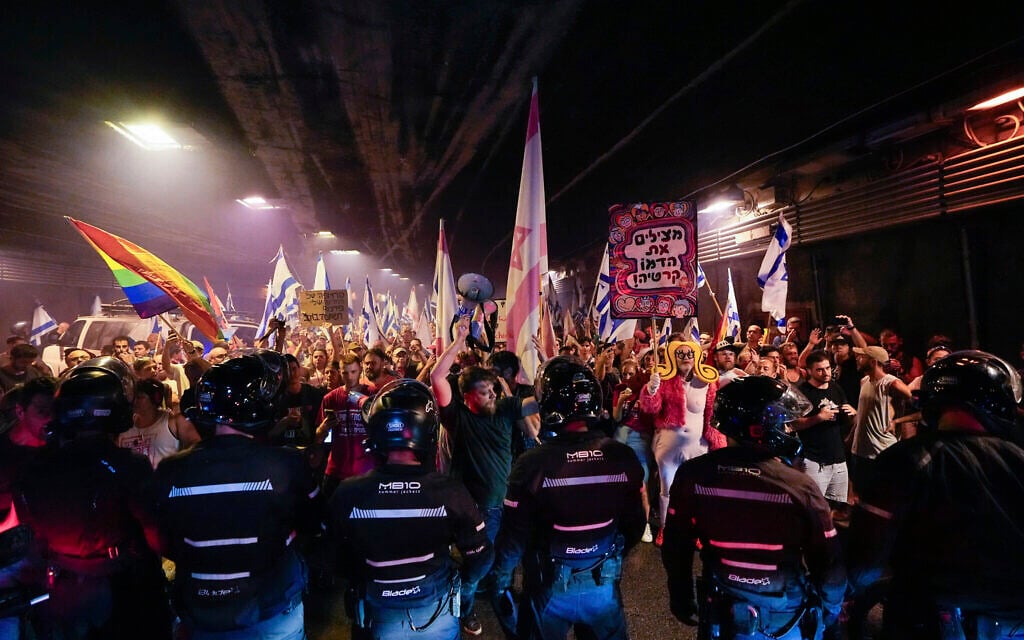 Title: Protests Gain Momentum as Government's Judicial Overhaul Plans Draw Criticism
In response to the government's recent measures to curtail judicial review, the protest movement in Israel is gearing up for mass weekly demonstrations. The controversial law, passed to limit judicial oversight of governmental decisions, has triggered widespread concerns about corruption and raised accusations of police brutality.
Beginning in January, the protests have intensified steadily since the government unveiled its plans to overhaul the judiciary. This move has attracted international attention, with the international community expressing their disapproval of the government's actions.
The most recent law prevents judges from striking down government decisions on the grounds of unreasonableness. Critics argue that this legal provision opens the door to corruption and improper appointments within the government. This has fueled worries about the erosion of checks and balances, as some members of the government advocate for further reforms that would give the ruling majority more power in judicial appointments and limit court oversight.
Seeking to make their voices heard, demonstrators are planning to march in Tel Aviv and gather outside Prime Minister Benjamin Netanyahu's residence in Jerusalem. The movement pledges to persist until their demands for judicial independence and protection of individual rights are met.
As the protests continue, lawyers representing detainees claim that police are violating their rights to proper legal representation. The reports of police brutality and excessive use of force have amplified concerns about the erosion of civil liberties and human rights.
Further exacerbating the situation, global credit agencies have warned of negative consequences and risks to Israel's economy due to the government's judicial overhaul plans. In fact, a survey reveals that over a quarter of Israelis are contemplating leaving the country due to the passage of the controversial law.
The fears are not limited to the socio-political realm, as the judicial overhaul is also having an impact on the business landscape. Israeli startups, uncertain about the future, are taking steps to relocate parts of their operations abroad. In response, a relocation company has observed a sharp uptick in activity, with individuals seriously considering leaving Israel permanently.
Financial advisors are now fielding questions about opening bank accounts abroad and transferring assets out of the country. Some individuals are already acting on these concerns, transferring significant sums of money and purchasing properties elsewhere.
As the protest movement gains momentum, the government must address the growing discontent and address the fears surrounding the future of the judiciary. The ongoing demonstrations will serve as a powerful reminder to the government that the preservation of democratic values and the maintenance of a stringent judicial system are of paramount importance to Israeli citizens and the global community.