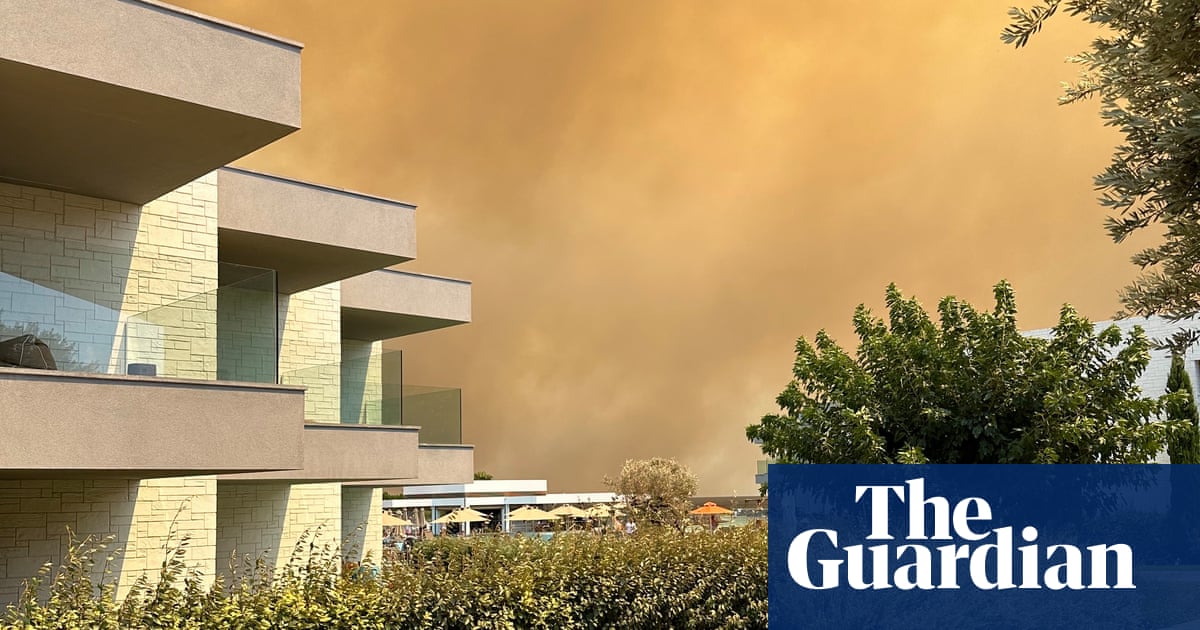 Title: British Family's Holiday Turns into Nightmare as Wildfires Ravage Rhodes
In a shocking turn of events, a British family's blissful vacation in Rhodes, Greece, quickly transformed into a living nightmare as wildfires engulfed the popular holiday destination. The wildfires, which caused havoc and panic among tourists, prompted the family to share their first-hand experience of the terrifying ordeal.
The family had been enjoying the initial days of their vacation, relishing the relaxation and tranquility. However, their holiday took an ominous turn when they noticed a massive cloud of smoke in the sky, blocking out the sun. Despite the initial hope that the situation would be resolved, it soon became apparent that a disaster was unfolding.
The turning point came when the family observed a multitude of people frantically evacuating their resorts due to the approaching flames. Panic set in, and they were left with no choice but to flee. The chaos and trauma they witnessed were reminiscent of scenes from a disaster movie, with people running for their lives clad in swim shorts and bikinis. Although the resort team did their best to provide assistance, the situation quickly escalated.
With flames raging and the situation becoming increasingly dangerous, the family had to endure a night of terror. In the middle of the night, they were abruptly evacuated from their resort, leaving behind their belongings. They navigated treacherous conditions in search of safety, guided by a local hero who led them and hundreds of others through fields and back-country roads. The immense fear they experienced as they walked towards the fire was eventually replaced with relief when they were picked up by a coach.
Seeking refuge at another resort, uncertainty and anxiety prevailed as information about the ongoing fires was scarce. Their struggles to find transportation out of Rhodes persisted for days. Finally, a repatriation flight became available, offering a much-needed sense of relief to the family as they prepared to return to the UK.
The harrowing experience left the family deeply shaken and ignited a newfound awareness of the climate crisis. They expressed concerns for the future, highlighting the impact on both tourists and local residents. They commended the efforts of the Greek authorities but stressed the urgency for greater awareness and action to tackle the escalating threat of wildfires and other climate-related disasters.
As a result of their traumatic encounter, the family made a personal decision to cancel any future travel plans and opt to remain in the UK. They described a mix of emotions – feeling empty yet relieved to be home and safe.
This eye-opening account sheds light on the immense challenges faced by holidaymakers in the face of climate disasters. It serves as a stark reminder of the urgent need for increased awareness and action to address and mitigate the devastating consequences of the climate crisis.