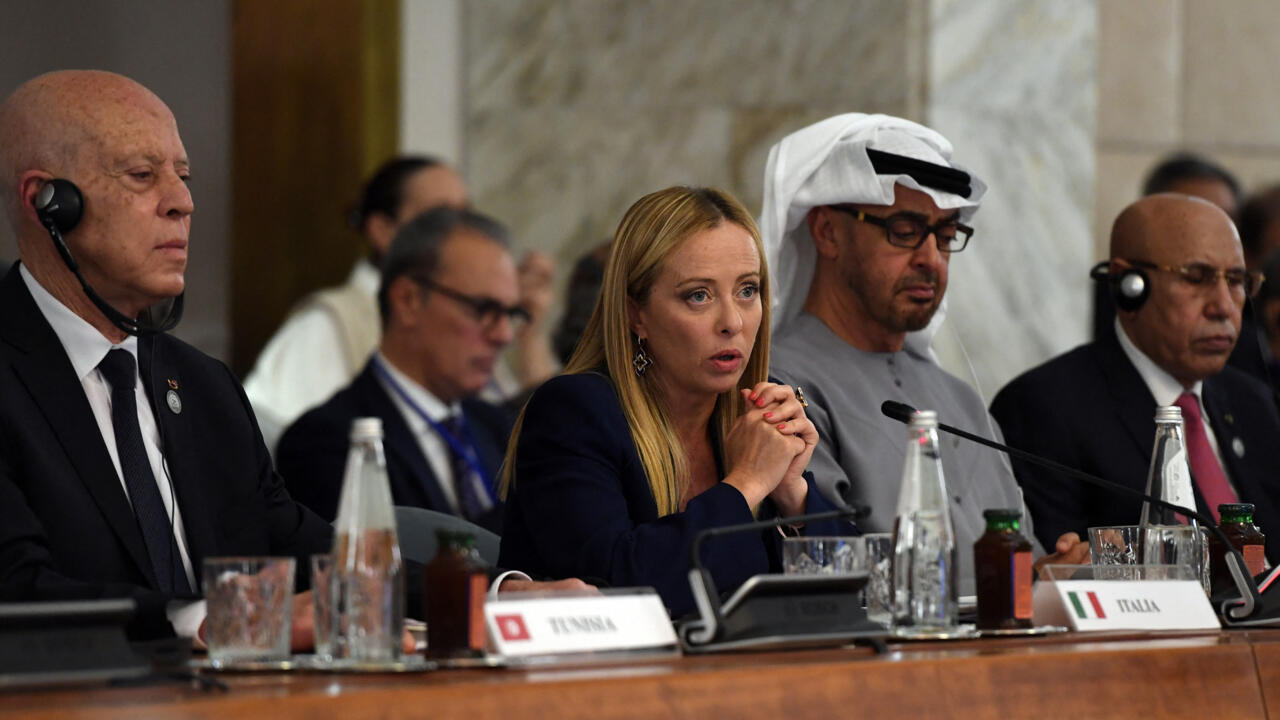 Italy Hosts Conference with Mediterranean Leaders to Discuss Extending EU-Backed Deal with Tunisia
Rome – Italy recently hosted a conference in Rome with leaders from Mediterranean countries to discuss extending an EU-backed deal with Tunisia to control migrant arrivals in Europe. The conference aimed to establish a fund to finance investment projects and support border controls in order to regulate migratory flows.
Italian Prime Minister, Giorgia Meloni, emphasized the importance of cooperation in supporting development in Africa. She highlighted the need for partnerships with African nations to address the underlying issues that drive migration.
The United Arab Emirates (UAE) announced a significant financial commitment during the conference. The UAE pledged 100 million euros ($111 million) to the fund, demonstrating their support for efforts to address migration challenges.
In a speech addressing the conference, Pope Francis called on leaders to assist migrants seeking a better life. He emphasized that the Mediterranean should no longer be a site of death and inhumanity and urged leaders to prioritize humanitarian efforts.
Italy has experienced a substantial increase in coastal migrant arrivals, with nearly 80,000 arrivals this year compared to 33,000 during the same period last year. Despite the efforts of the Italian government to impede humanitarian ships rescuing migrants, departures from Tunisia and Libya have not been effectively stopped.
Italy and the European Commission are seeking closer engagement with Tunisia and have signed a memorandum of understanding providing European aid to prevent the departure of migrant boats and combat smugglers. They hope to establish similar partnerships with Egypt and Morocco in order to address migration challenges in the region.
The conference was attended by various leaders and officials, including the presidents of Tunisia, the UAE, and Mauritania, as well as EU chiefs and the head of the UN refugee agency. However, France and Spain were notably absent from the conference, raising questions about their level of commitment to addressing migration issues.
Some experts argue that a new deal with Tunisia would have limited impact on migration patterns. They believe that a comprehensive approach addressing the root causes of migration and providing better opportunities in home countries is needed.
Human rights groups and charities have criticized the deal, stating that it disregards human rights and fails to learn from the abuses faced by migrants in Libya. They argue for a more compassionate and rights-based approach to migration management.
As discussions continue, it remains to be seen how effective the proposed deal and partnership will be in addressing the complex issue of migration. Both practical solutions and a focus on human rights are essential in finding a sustainable resolution to the challenges faced in the Mediterranean.