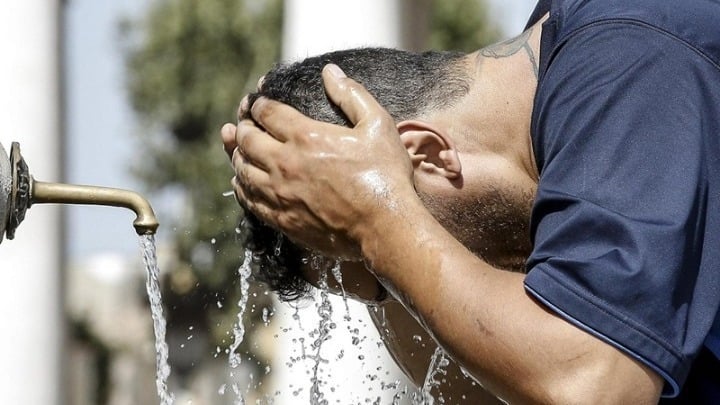 Title: Greek Man Dies in Heatwave as Temperatures Soar to Record Highs
In a tragic incident that highlights the severity of the ongoing heatwave in Greece, a 46-year-old man succumbed to heatstroke after being exposed to scorching temperatures that reached a staggering 45°C (113°F). Despite efforts to resuscitate him, the man tragically lost his life, leaving the nation in shock and raising concerns about the extreme weather conditions gripping the region.
The victim, who was in seemingly good health, was riding his bicycle in the center of Chalkida when he fell victim to the relentless heat. As authorities attempted to cool down the situation, the Hellenic National Meteorological Service (EMY) issued an alarming bulletin, warning residents that temperatures were expected to soar as high as 44°C and 45°C throughout the weekend.
According to experts, this heatwave is predicted to surpass the intensity of the notorious 1987 heatwave, which resulted in over 1,300 deaths. The director of EMY stressed that the absence of any visible weather system to disperse the hot air masses has exacerbated the sweltering conditions, leaving people vulnerable to heat-related illnesses.
In response to the escalating crisis, the Climate Crisis and Civil Protection Ministry held a crucial meeting to coordinate efforts and make informed decisions in preparation for the extreme weather conditions. Authorities are working tirelessly to manage the situation and mitigate the risks associated with the soaring temperatures.
Moreover, Greek authorities have issued warnings about the significantly high risk of wildfires in multiple regions, including Attica, Central Greece, the Peloponnese, and the Aegean islands. Given the dry and arid conditions, the public has been urged to exercise extreme caution and refrain from activities that could potentially spark fires. Any sightings of fires are to be reported to the emergency number 199 immediately.
As Greece grapples with this unprecedented heatwave, the entire nation is on high alert. The tragic loss of life serves as a grim reminder of the seriousness of the situation. Authorities are doing everything within their power to maintain public safety while urging residents to adapt their daily routines to lessen the risk of heat-related incidents and devastating wildfires.