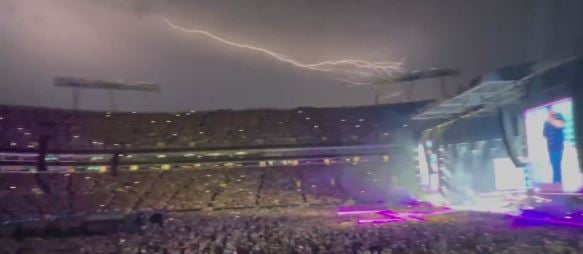 Title: Severe Storms Interrupt Luke Combs' Concert in Charlotte, Spectacular Lightning Captured
In a truly electrifying turn of events, Luke Combs' highly anticipated concert in Charlotte was unexpectedly interrupted by severe storms that sent concert-goers and organizers into a momentary frenzy. With a dramatic bolt of lightning captured on video above Bank of America Stadium, safety quickly became the utmost priority, leading to the implementation of the shelter-in-place protocol.
As attendees anxiously watched the darkened sky, organizers and the stadium worked swiftly to ensure the safety of everyone in attendance. The shelter-in-place protocol, a tried-and-true safety measure, was promptly executed, requiring concert-goers to seek shelter inside the stadium and remain there until given the all-clear.
With the concert momentarily paused, Bank of America Stadium diligently provided constant updates on the lightning detection and protocol status, keeping attendees informed and reassured. As the situation unfolded, the stadium's advanced lightning detection system worked diligently to monitor the surrounding area, ensuring everyone's safety in real-time.
After a nerve-racking wait, the stadium declared an end to the shelter-in-place protocol as the severe storms gradually passed. Concert-goers breathed a collective sigh of relief when it was announced that Luke Combs' concert would continue as planned.
The storm's unpredictability did not only affect the overall schedule of the concert, but it also required artists to adapt their performances. Lainey Wilson, one of the opening acts, showcased her flexibility by delivering an impromptu acoustic performance while the lightning persisted in the area. Her ability to adjust to unexpected circumstances impressed the audience, creating a captivating and unforgettable experience.
As the skies cleared and the storm dissipated, Luke Combs took the stage, drawing an even greater sense of excitement and euphoria from the relieved crowd. His energetic and powerful evening of entertainment served as the perfect end to a night that had initially been shrouded in uncertainty.
Luke Combs' concert in Charlotte, although fraught with unexpected challenges posed by Mother Nature, ultimately became a testament to the resilience of both the organizers and the concert-goers. The evening's trials and triumphs will undoubtedly be etched in the memories of those lucky enough to experience this extraordinary event.
Press Stories will continue to bring you the latest news on the music scene, capturing the most captivating moments that unfold during live performances. Stay tuned for more stories that keep you informed, engaged, and entertained.