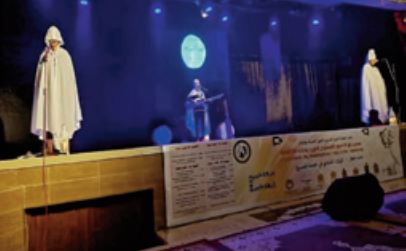 The kingdom's economic capital will host the 35th edition of the Casablanca International University Theater Festival from July 24 to 29 under the initiative of Ben Mzik's Faculty of Letters and Human Sciences under Hassan II University. Drama and Virtual Worlds".
H.M. Held under the high patronage of King Mohammed VI, this edition will be marked by a rich and diversified program with distinguished international participation, particularly from Saudi Arabia, Italy and Germany, the organizers indicated during a press conference in Casablanca on Thursday. .
The president of the ceremony, Rachid El Hadary, emphasized that Hassan II University of Casablanca always encourages and will always encourage. , transparency.
Letters from Ben M'Sik and Dean of the Faculty of Human Sciences Mr. El Hadari noted that this 35th edition will focus on new trends in theater and its relations with the virtual world. The theme is "Theatre and Virtual Worlds".
He explained that a virtual world is an artificial world created by computer software that can host a community of users who are avatars and can move around and interact in it. , a digital space where activities such as communication, education, art and entertainment can be engaged.
Virtual reality makes it possible to live an immersive experience and perform sensory and motor activity in an artificial world, he continued, noting that the questions we need to ask are especially related to the impact of artificial intelligence on the 4th. How AI can contribute to the evolution of art and theater practice.
These questions will be raised throughout the activities of this edition full of scientific and intellectual gatherings and workshops, said Mr. El Hadari noted.
For his part, the director of the festival, Abdelkader Gankai, stressed that over the years, the festival has become an important event that highlights the dynamism of the University of Morocco and its ability to adhere to the local development process and adapt to new developments. in various fields in the world
The festival has contributed to the promotion of the image of the provinces of Moulay Rachid and Ben Mcik in particular, and Casablanca in general, which has become a destination for great artists, researchers and creators and lovers of art and entertainment. He noted that the festival also made it possible to launch a parallel cultural diplomacy that consolidated the kingdom's influence.
For his part, Hicham Zine El Abidin, artistic director of the festival, underlined that this year's edition will be marked by special presentations using virtual worlds, which will make it possible to offer a new and developed experience in theatrical experiences. Saudi Arabia's theater will also participate in the festival.
According to him, it is an opportunity to open up to other theater experiences, and since the number of Moroccan plays exceeds foreign ones, this version has a strong national participation.
The program includes theater presentations by Moroccan university groups, training workshops for students and theater enthusiasts, meetings and symposia on theater and the theme of this edition.
As usual, the festival will pay tribute to many personalities from the world of art to recognize their artistic contributions and work, to allow future generations to discover the works and scientific work of famous personalities.
The festival also offers the opportunity to discuss different theater presentations within the framework of the festival's nights, which are considered a laboratory for exchange between university groups to discover different working tools and multiple visions of theater practice.
Since its inception in 1988, the festival has established a tradition of opening the frontiers of collaboration to young people around the world. It allows them to acquire personal knowledge and professional skills, which opens up opportunities for integration in society, which contributes to the development of the country, responsibility, discipline and fulfillment.