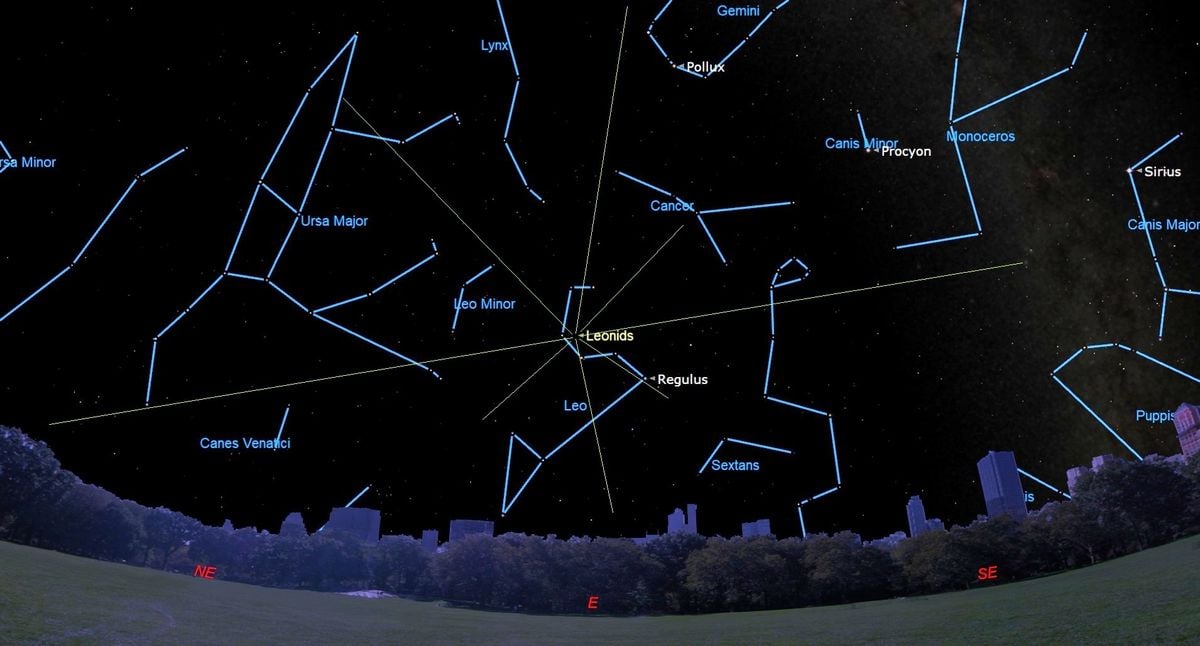 Get Ready for the Leonid Meteor Shower on November 18
The Leonid meteor shower, known for its spectacular displays in the past, is set to reach its peak on Saturday morning, November 18. However, this year's shower is expected to be weak, with long stretches without any visible meteors.
The Leonids have a rich history of meteor storms, with recorded events in 1799, 1833, and 1966. These storms produced breathtaking displays of meteors. However, experts suggest that this year's shower may not live up to those past performances.
The International Meteor Organization forecasts hourly rates of 10 to 15 meteors per hour, with the peak expected at around 5:00 UT on November 18. To witness the Leonids, it is recommended to have a wide-open view of the sky and be in a dark, non-light polluted area. The best time to look for them is in the early morning hours before dawn when the constellation Leo is fully visible.
The Leonids are caused by periodic Comet Tempel-Tuttle, which leaves a trail of dust and debris as it passes through the inner solar system. The heaviest concentrations of meteoroids are found near the comet. However, this year's Leonids are anticipated to have lean activity due to the scattering of particles at our point in the comet's orbit.
Forecasts indicate a "moderate" maximum of around 15 meteors per hour during the peak period on November 18. But there is hope for an improvement. As Comet Tempel-Tuttle draws closer to the sun, the Leonids are expected to become more impressive. The best years of the next Leonid cycle are predicted to be in 2034 and 2035.
If you're eager to witness a more prolific meteor shower, mark your calendars for the December Geminids. Considered the best shower of the year, they are expected to peak on December 13 with over 100 meteors per hour.
Don't miss the chance to marvel at the beauty of the Leonid meteor shower on November 18. Even though it may not live up to its past glory, it is still a captivating celestial event worth experiencing. Keep your eyes to the sky and enjoy the wonders of nature.