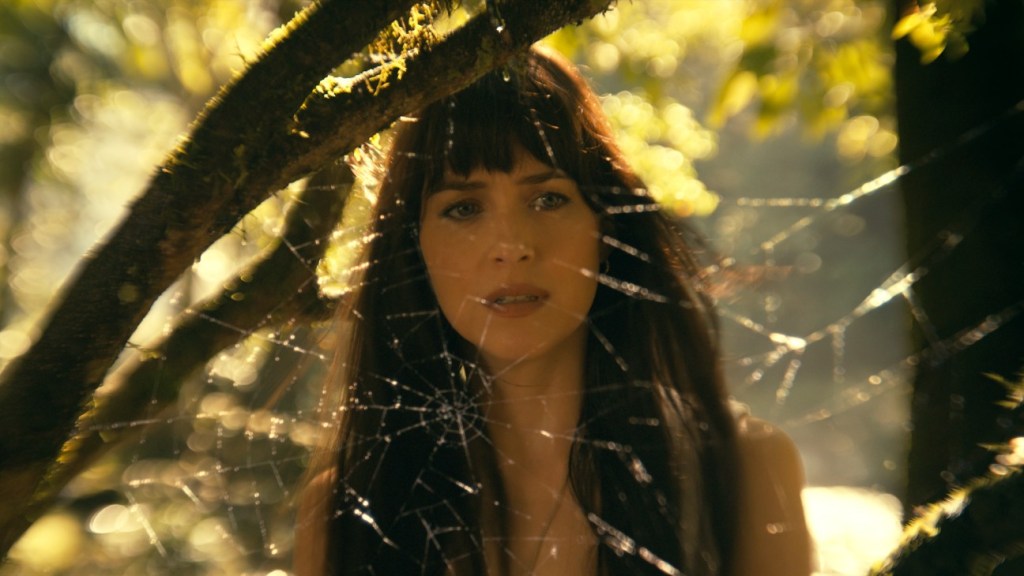 Sony Pictures recently unveiled the first trailer for their highly anticipated Spider-Man spinoff, Madame Web. As part of the Sony Pictures Universe of Marvel Characters, the film will hit theaters on February 14, 2024.
The spotlight of Madame Web falls on the talented actress Dakota Johnson, who will portray Cassandra Webb, a clairvoyant mutant capable of foreseeing the future of Spider-themed heroes. The trailer offers a tantalizing glimpse into Johnson's character as she finds herself entangled in mysterious encounters with a man from her mother's past. In order to survive, she must rely on this enigmatic figure.
The film was skillfully directed by S.J. Clarkson, who also contributed to the script alongside Claire Parker. The story itself was crafted by Kerem Sanga. Joining Johnson in this exciting project are a star-studded ensemble cast including Sydney Sweeney, Celeste O'Connor, Isabela Merced, Tahar Rahim, Mike Epps, Emma Roberts, and Adam Scott.
Lorenzo di Bonaventura takes the helm as the producer of Madame Web, while Parker and Adam Merims serve as executive producers, ensuring a top-notch production. This highly-anticipated film falls in line with other Spider-Man spinoffs from Sony, such as Kraven the Hunter, slated for release in August 2024, and the third installment of the Venom franchise, set to hit theaters in November of next year.
Actress Sydney Sweeney, who plays a significant role in Madame Web, has expressed her excitement about this project. She describes her character's personal struggles as an "absolute career highlight," indicating the depth and complexity of the story.
Meanwhile, Dakota Johnson's portrayal of Cassandra Webb adds to her already impressive resume, which includes her breakthrough role in the Fifty Shades of Grey franchise. Sydney Sweeney, known for her exceptional performances in Euphoria and The White Lotus, continues to showcase her talent in significant roles.
Fans of the Spider-Man universe can expect a thrilling experience with Madame Web, filled with suspense, supernatural elements, and captivating performances. Mark your calendars as February 14, 2024, approaches, when this exciting addition to the Sony Pictures Universe of Marvel Characters will hit theaters and take audiences on a wild ride.