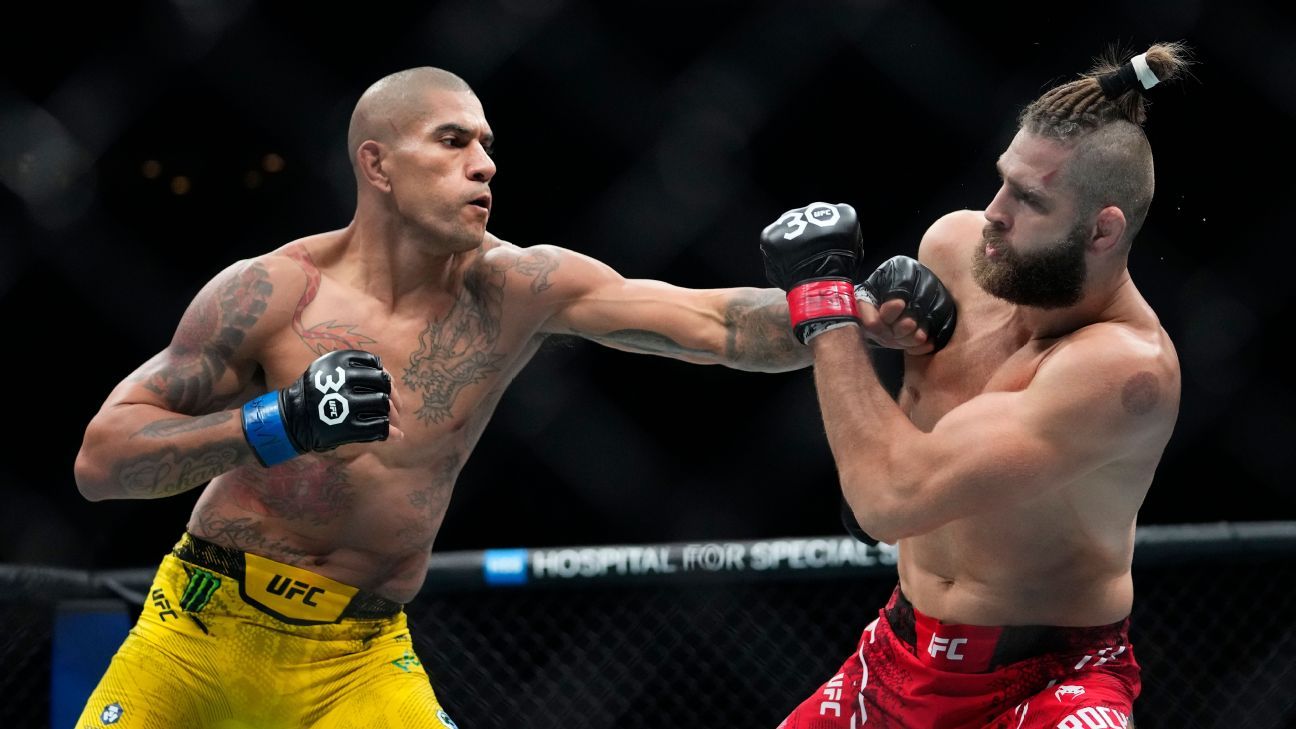 Title: Alex Pereira Becomes Fastest Two-Division Champion in UFC History with Spectacular Knockout Win
In a stunning display of skill and power, Alex Pereira electrified the UFC world by claiming victory over Jiří Procházka in the second round, securing the UFC light heavyweight championship. With this win, Pereira has made history as the fastest fighter to ever win championships in two weight classes in UFC history, cementing his name among the greats of the sport.
The vacant UFC light heavyweight championship was up for grabs, and Pereira stepped up to the challenge, becoming the ninth two-division champion in UFC history. Prior to this triumph, he held the UFC middleweight championship, proving his versatility and dominance within the octagon.
Pereira's victory was nothing short of impressive, earning praise and admiration from fans and pundits alike. The Brazilian fighter dropped Procházka with a powerful left hook, leading to a TKO victory. However, the controversial stoppage elicited some boos from the crowd, with some feeling it was premature.
Not one to rest on his laurels, Pereira wasted no time in calling out Israel Adesanya, his rival in the light heavyweight division. Their rivalry extends beyond UFC, with Pereira having beaten Adesanya twice in kickboxing and winning their previous UFC encounter. While Adesanya is yet to respond to the challenge, it is widely speculated that Jamahal Hill will be Pereira's next opponent once he recovers.
The UFC light heavyweight division has faced a period of instability following Jon Jones vacating the title. Procházka himself relinquished the belt due to a severe shoulder injury. Jamahal Hill briefly held the title before an Achilles tendon injury forced him to step down. Pereira's win brings some stability and excitement to the division, promising thrilling matchups for fans in the future.
Throughout the fight, Pereira showcased his trademark leg kicks and punching power, which proved to be the key to his victory. His technique and strategy were excellently executed, leaving Procházka no chance to recover.
Pereira's achievements go beyond this historic win. He also stands as the only fighter to ever headline back-to-back UFC cards at Madison Square Garden. In November 2022, he knocked out Adesanya to claim the UFC middleweight title at MSG. With this recent victory, Pereira now boasts a perfect record of 3-0 at the iconic venue.
Procházka, who had previously held the UFC light heavyweight title and enjoyed a 13-fight winning streak, graciously accepted defeat. He acknowledged being out during the fight and agreed with the stoppage, further validating Pereira's incredible performance.
Alex Pereira's rise to the top and remarkable accomplishments in the UFC serve as a testament to his immense talent and dedication. As the undisputed UFC light heavyweight champion, Pereira has positioned himself as one of the most formidable fighters in the sport and a force to be reckoned with in the division.