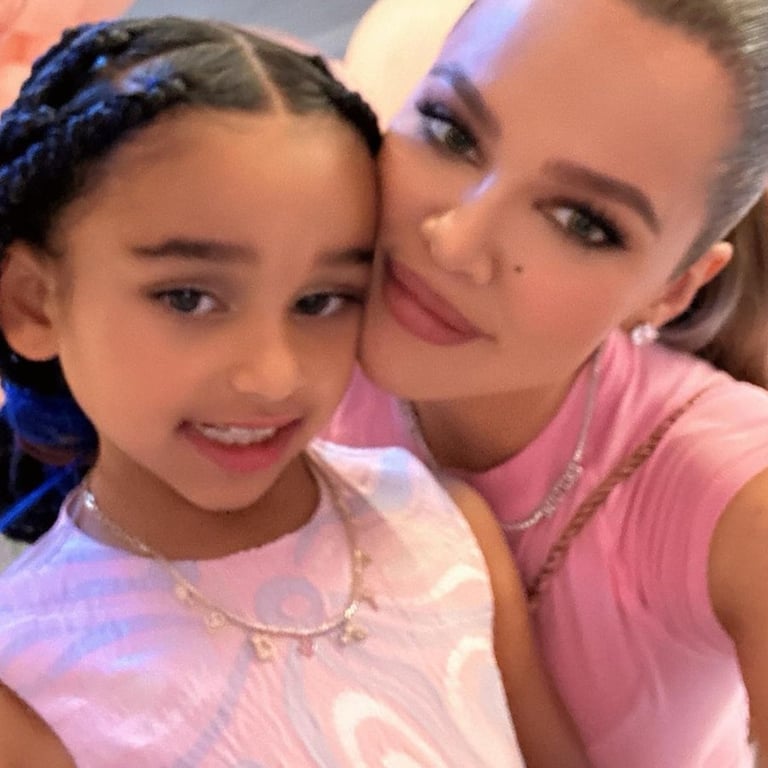 Khloé Kardashian Throws Extravagant Beauty-Themed Party for Dream Kardashian's Seventh Birthday
Reality TV star Khloé Kardashian pulled out all the stops to throw a lavish and memorable seventh birthday party for her niece, Dream Kardashian. The party, held at an undisclosed location, had a beauty theme that delighted both kids and adults alike.
Dream, the daughter of Rob Kardashian and Blac Chyna, was treated like a princess throughout the festivities. Before the party began, she had her glam done by a professional makeup artist and hairstylist, adding an extra touch of glamour to her big day. Decked out in an all-pink outfit matching the decor, Dream looked absolutely adorable.
As guests arrived, they were greeted with a sight to behold – a massive balloon arch featuring a life-size cutout of Dream's beloved cartoon avatar. The party venue was transformed into a beauty wonderland, with activities and decorations centered around various beauty products.
Inside the party, the fun continued with a ball pit aptly named "Dream's Bubble Bath." The kids had a blast jumping and diving into the colorful sea of balls. To amp up the beauty factor, face mask-making and DIY lip gloss stations were set up, allowing the young guests to channel their inner beauty experts.
One of the highlights of the party was the personalized toiletries bag station, where Dream and her friends got to create their own customized bags. This added a personal touch to the event and allowed the guests to take home a unique and useful party favor.
No birthday party is complete without delicious treats, and Dream's celebration was no exception. The renowned Cake Gourmet Sugar Service provided an array of delectable goodies, including cookies adorned with Dream's face wearing a mud mask. Additionally, macaroons cleverly designed to look like refreshing cucumber slices added a touch of whimsy to the dessert spread.
The grand finale of the celebration was a shaved ice bar, offering a cool and refreshing treat for the party-goers. The highlight of the dessert table, however, was a stunning three-tiered cake adorned with spa-themed decorations. The cake served as a show-stopping centerpiece and a sweet ending to an extraordinary party.
Khloé Kardashian certainly pulled out all the stops to ensure that Dream Kardashian had an unforgettable seventh birthday celebration. With the extravagant beauty theme, personalized activities, and mouthwatering treats, it's safe to say that this party was one for the books.