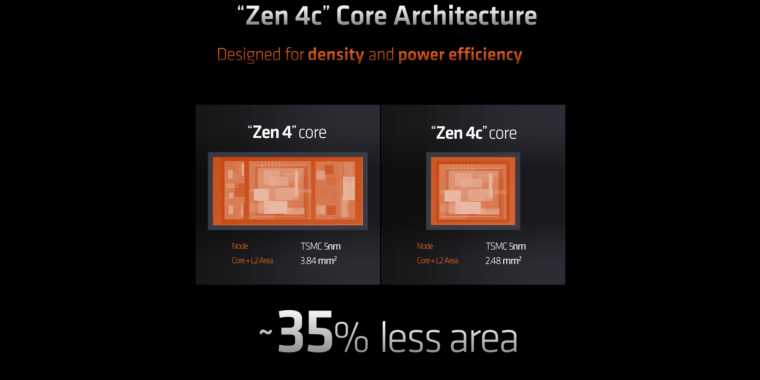 AMD Unveils New Ryzen 7040U-Series Chips for Slim and Lightweight Laptops
In an exciting development for laptop enthusiasts, tech giant AMD has just announced the release of two new Ryzen 7040U-series chips specially designed for thin and light laptops. These chips combine the power of regular Zen 4 CPU cores with Zen 4c cores, which are known for their space-saving capabilities.
What sets Zen 4c cores apart is that they possess the same capabilities as Zen 4 cores, but take up a remarkable 35% less space. This achievement in compact design is a significant breakthrough for AMD. The chips, known as "Phoenix 2," not only include high-performance Zen 4 cores and high-efficiency Zen 4c cores, but they also feature a Radeon 740M integrated GPU with RDNA3 graphics cores.
The Ryzen 5 7545U is a fully enabled version of the Phoenix 2 chip, offering users the maximum computing power and efficiency. On the other hand, the Ryzen 3 7440U is a cut-down version, with one Zen 4 core and three Zen 4c cores enabled. This allows for a balance between performance and economical use of die area.
AMD has adopted a heterogeneous design methodology for these new CPUs, similar to Intel's big and little core approach. The Zen 4 and Zen 4c cores share the same architecture and feature sets, but cater to different requirements. While Zen 4 cores are ideal for high single-core performance, Zen 4c cores are optimized for die area and efficiency.
The introduction of Zen 4c cores is not entirely unprecedented, as they were previously incorporated into some of AMD's EPYC server processors. However, their expansion into the realm of notebooks marks a new era for this technology. AMD aims to increase core counts in their high-end chips and provide consumers with a broader range of options, especially in the entry-level market.
Interestingly, the Phoenix 2 chips were initially utilized in non-Extreme Ryzen Z1 chips for handheld game consoles. AMD's numbering system for its chips has already been a source of confusion among users, and the addition of higher- and lower-performing cores in the same chip only further complicates matters.
With the release of these new Ryzen chips, AMD has proven once again its commitment to pushing the boundaries of technology and providing innovative solutions for both gamers and laptop users. These chips promise outstanding performance and efficiency, placing AMD at the forefront of the industry.