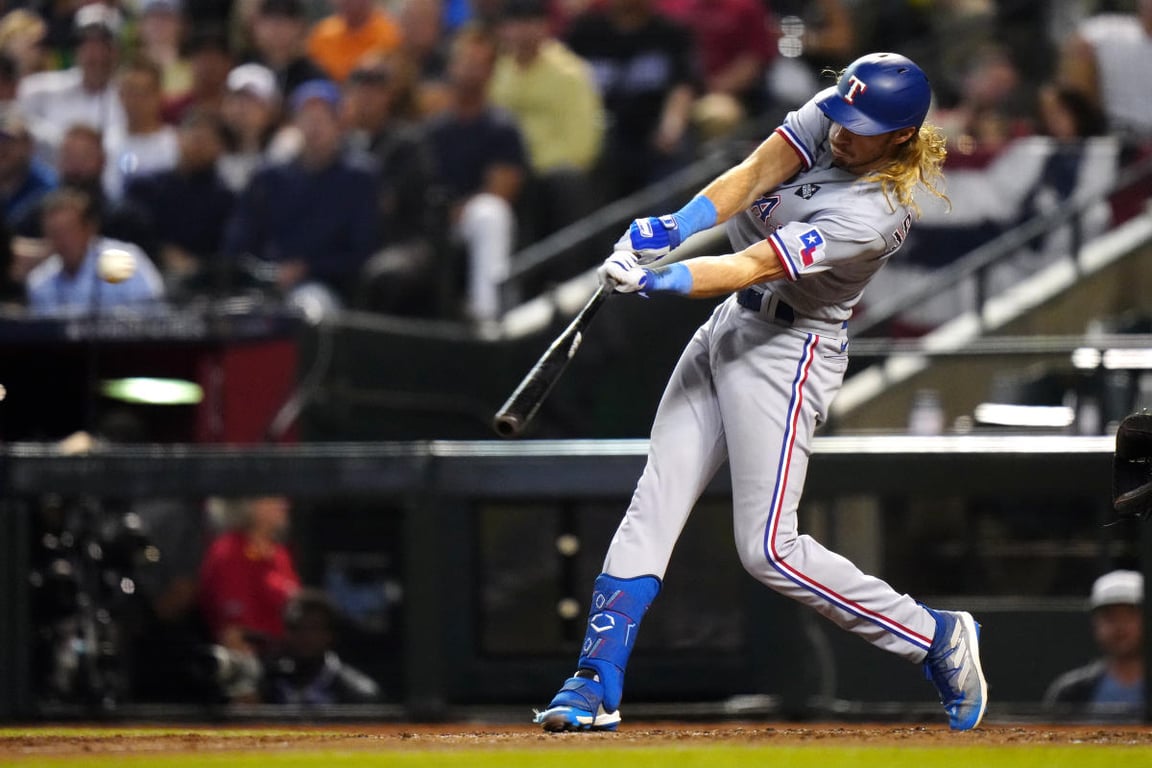 Title: Travis Jankowski Shines in First Career Postseason Start for the Texas Rangers
Texas Rangers outfielder Travis Jankowski, best known for his defensive skills as a late-inning replacement, recently had the opportunity to make his first-ever postseason start in Game 4 of the World Series against the Arizona Diamondbacks.
Jankowski's chance to shine came after a major setback for the Rangers, as right fielder Adolis García suffered an oblique injury in Game 3 and was subsequently removed from the roster, along with pitcher Max Scherzer.
Despite his lack of prior postseason experience, Jankowski mentally prepared himself for the possibility of starting and fully embraced the opportunity to play in the prestigious World Series.
Jankowski wasted no time making an impact in the second inning, as he hit a single up the middle, setting the stage for a crucial triple by Marcus Semien, which allowed the Rangers to score an impressive five runs in the inning.
Displaying his batting prowess once again, Jankowski came through in the third inning with a bases-loaded double, driving in two runs and adding yet another point to the scoreboard after Semien's subsequent home run.
Thanks to Jankowski's outstanding performance, which included two hits overall, the Rangers enjoyed an impressive 11-7 victory in Game 4 of the World Series.
Alongside Jankowski, key offensive players such as Semien, Corey Seager, and Jonah Heim also displayed their abilities, combining for an impressive nine runs batted in (RBI) during the game.
Jankowski's successful night at the plate exemplified the Rangers' offensive strategy, which prioritizes line-drive hitting and quality at-bats, leading to their dominating performance.
Despite the absence of García, the Rangers' offense proved to be a force to be reckoned with, taking them to their closest chance yet of winning their first championship title.
Though unable to play, García addressed his teammates in a pregame meeting, openly expressing his disappointment over his injury while urging them to persevere and bring home the victory.
With the Rangers now faced with the task of naming a new Hitter of the Day for their upcoming game, the team is confronted with a difficult decision after a series of standout performances in Game 4.
As the World Series unfolds, fans eagerly await the next chapter in this thrilling battle between two talented teams.