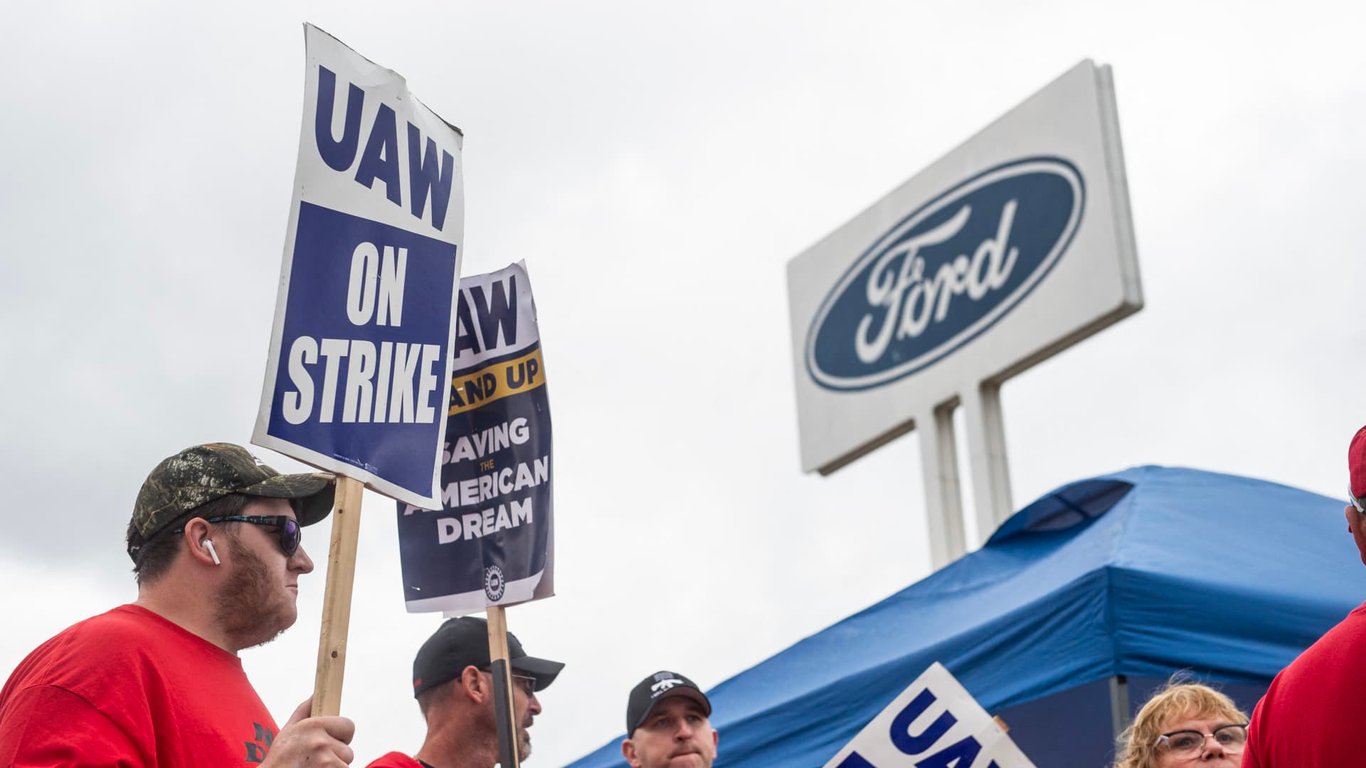 Title: United Auto Workers Leaders Approve Tentative Agreement with Ford Motor: Promising Investments and Benefits for Members
In a significant development for the automotive industry, the United Auto Workers (UAW) union leaders have given their stamp of approval to a tentative agreement with Ford Motor. This agreement, reached after intense negotiations, is expected to bring substantial benefits to both the company and its workers.
Under the terms of the deal, Ford has committed to investing a staggering $8.1 billion in new plant investments. These investments will not only create job opportunities but also stimulate economic growth in various regions across the United States.
One of the most eagerly anticipated aspects for the UAW-Ford members is the $5,000 ratification bonuses they will receive as part of the agreement. This financial boost will undoubtedly be a welcome relief for workers who have faced uncertainties during the negotiation period.
Additionally, the agreement includes a notable provision for a 25% compounded wage increase, offering UAW-Ford members a chance to improve their financial well-being. Furthermore, improved profit-sharing payments will provide workers with additional incentives to strive for excellence.
The tentative agreement, which spans a duration of 4 ½ years, will now undergo the crucial step of being presented to the approximately 57,000 UAW-Ford members. This will involve a series of regional informational meetings followed by voting to determine the final endorsement.
UAW leaders are optimistic that this agreement will not only achieve groundbreaking results but also bring about positive changes in the lives of union members. Their hope is that this deal will set a new standard within the industry, fostering improved working conditions and increased job security for all involved.
It is worth noting that this agreement follows targeted strikes by the UAW against not only Ford, but also General Motors and Stellantis. While the union has reached a tentative deal with Stellantis, the negotiations with GM are yet to yield an agreement.
The agreement's most significant promised investments include $2.1 billion for Ohio Assembly, $1.2 billion for a new electric vehicle at Louisville Assembly, $1 billion in Kansas City Assembly, and $900 million for F-150 production and the development of a new electric truck. These investments are expected to further solidify Ford's position in the evolving automotive market and modernize its production capabilities.
In conclusion, the tentative agreement reached by United Auto Workers union leaders and Ford Motor is poised to bring numerous benefits to both parties involved. The substantial investments and improved provisions act as a testament to the commitment of both the company and the union in establishing a fruitful collaboration. As UAW-Ford members prepare to cast their votes, the significance of this agreement cannot be understated in shaping the future of the automotive industry.