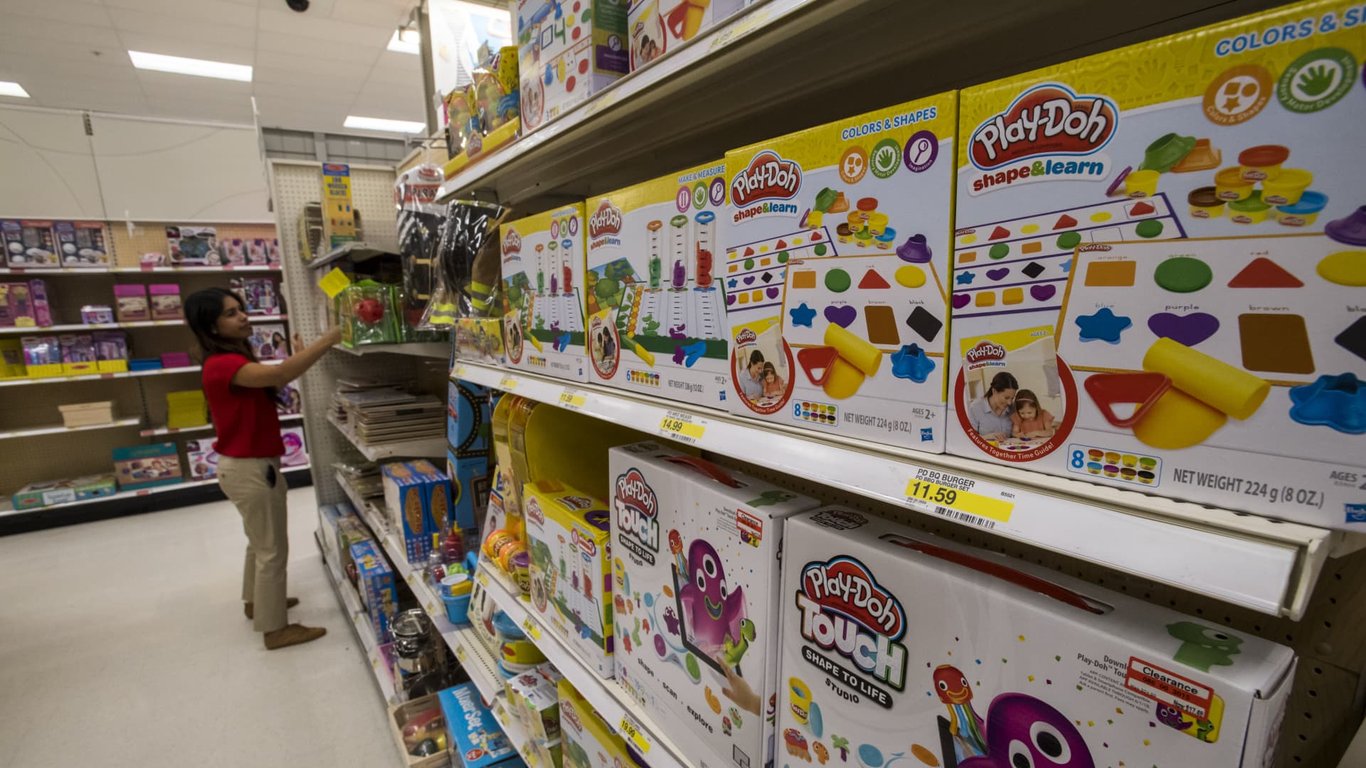 Title: Stock Market News: Hasbro and Southwest Airlines Struggle, Hershey's and Royal Caribbean See Gains
Introduction:
In the world of finance, the stock market can be both a source of excitement and anxiety for investors. Recent reports have brought mixed news for various companies, with some exceeding expectations while others struggle to keep up. In this article, we will highlight the key developments from the latest financial reports of several notable companies.
Hasbro's Stock Tumbles Following Disappointing Third Quarter Report:
Toy and entertainment company, Hasbro, reported a weaker-than-expected financial performance in the third quarter, causing a 9.2% drop in its stock. Earnings per share and revenue fell short of analyst expectations, signaling potential challenges for the company.
Southwest Airlines Faces Underwhelming Revenue, Plans to Slow Capacity Growth:
Southwest Airlines experienced a 3.3% dip in its stock after reporting underwhelming third-quarter revenue. However, the company expects to combat this by implementing a strategic plan to slow capacity growth in 2024. Despite the setback, Southwest Airlines met expectations for earnings per share.
Bristol-Myers Squibb Sees Decline in Stock due to Decrease in Sales:
Pharmaceutical company, Bristol-Myers Squibb, witnessed a 4% decline in premarket trading due to decreased sales of its blood cancer drug, Revlimid. The drop was attributed to generic competition. However, the company managed to exceed earnings expectations, while revenue matched expectations.
Overstock.com's Stock Drops Amidst Weaker-Than-Expected Revenue:
E-commerce retailer, Overstock.com, experienced a 3.3% drop in its stock after reporting weaker-than-expected third-quarter revenue. The company fell short of analysts' consensus estimate, indicating potential challenges in the competitive online marketplace.
Hershey's Stock Increases after Strong Third-Quarter Earnings Report:
On a positive note, Hershey's stock rose by 2.7% following a robust third-quarter earnings report. Both earnings per share and revenue exceeded expectations, and the company maintained its full-year expectations, suggesting a promising outlook.
Royal Caribbean Sees Stock Rise on Surpassing Expectations:
Royal Caribbean Cruise Line witnessed a 1.7% increase in its shares after surpassing expectations on both earnings per share and revenue in the third quarter. The positive performance suggests a strong recovery for the travel industry.
Meta Platforms, Parent Company of Facebook and Instagram, Faces Stock Decline:
Meta Platforms, the parent company of popular social media platforms Facebook and Instagram, experienced a 4% decline in stock after warning of softening advertising revenue for the current quarter. Despite better-than-expected third-quarter results, concerns about future revenue growth weighed on investor sentiment.
Mattel's Stock Drops Despite Strong Earnings Report:
Despite offering a strong earnings report, toy manufacturer Mattel saw its stock plummet by 11.1%. The company beat expectations in the quarter, attributing its success to the highly anticipated "Barbie" movie.
ServiceNow's Stock Rises after Strong Quarterly Results:
ServiceNow, an IT service management company, experienced a 3% increase in its stock after reporting stronger-than-expected quarterly results. Additionally, the company provided solid subscription revenue expectations for the current period, indicating optimism for future growth.
Align Faces Stock Decrease after Missing Analyst Expectations:
Medical device company, Align, witnessed a 23.9% decrease in its stock after falling short of analyst expectations in third-quarter earnings. The company also provided weak guidance for current-quarter revenue, causing concerns among investors.
Flex Announces Positive Changes, Boosting Stock:
Flex, a manufacturing services provider, saw its shares increase by almost 10% after announcing plans to spin off its remaining interest in Nextracker. The company also raised its guidance for the fiscal year and expects higher earnings per share, bolstering investor confidence.
UPS'S Stock Declines Despite Slight Earnings Beat:
Delivery and logistics giant, UPS, experienced a 3% decline in its stock following its third-quarter earnings report. Though earnings per share slightly exceeded estimates, revenue fell below expectations, raising concerns about the company's performance.
Endeavor Group Holdings Sees Stock Surge due to Strategic Considerations:
Endeavor Group Holdings, a talent agency and sports company, rallied 22% in premarket trading after announcing its consideration of strategic alternatives. The company clarified that it would not sell its interest in TKO Group Holdings, fueling investor optimism.
Barclays Faces Stock Downgrade by Bank of America:
Barclays' U.S.-listed shares dropped by 2.3% in premarket trading after Bank of America downgraded the stock to underperform from neutral. The downgrade was motivated by poor risk-reward, signaling potential challenges for the bank.
F5's Cloud Security Stock Slides after Downgrade:
Cloud security company, F5, experienced a 2.6% slide in its stock after Bank of America downgraded shares to underperform from neutral. The downgrade was prompted by potential challenges to the firm's revenue growth guidance, creating uncertainty among investors.
Conclusion:
The stock market can be unpredictable, and the latest financial reports have highlighted the varying performances of different companies. While some have beaten expectations and experienced stock gains like Hershey's and Royal Caribbean, others, such as Hasbro and Align, faced challenges. These developments reflect the dynamic nature of the market and can guide investors in making informed decisions.