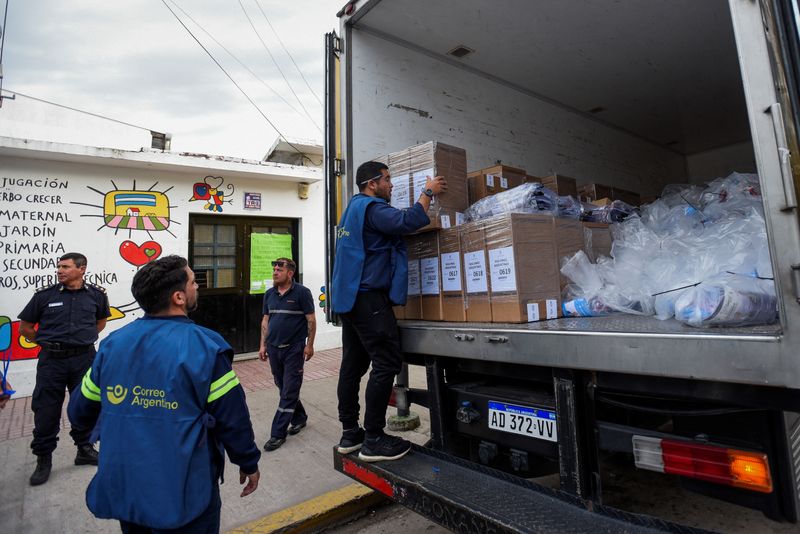 Title: Divided Argentine Voters Prepare for Crucial Presidential Election
As Argentina gears up for its upcoming presidential election, the country's voters find themselves divided among three prominent candidates. With each offering contrasting visions for the nation's future, the election has become pivotal for Argentina, given its status as a major grains exporter and its debts to the International Monetary Fund (IMF).
Javier Milei, Sergio Massa, and Patricia Bullrich have emerged as the key contenders in this highly anticipated race. Milei, who currently leads in the polls, has attracted both passionate support and concerns due to his proposals to reduce the size of the state and cut spending. His popularity has particularly resonated among disillusioned young voters, who are seeking change in the face of economic stagnation and soaring poverty levels.
Massa, on the other hand, has managed to secure the backing of those who support the center-left government. His policies are centered around continuity and building upon the progress made by the current administration. Massa's appeal lies in promising stability and a gradual improvement in the country's socioeconomic conditions.
Bullrich, backed by the conservative establishment and many influential figures in the local business world, offers a different approach altogether. Her campaign focuses on revitalizing the economy through pro-business policies and reducing government intervention.
With voters deeply divided and undecided, the outcome of the election remains unpredictable. It is anticipated that some voters will make last-minute decisions at the ballot box, highlighting the high stakes associated with this election.
Furthermore, the unreliability of polling data has become apparent, as evidenced by the failure to accurately predict the results of the August open primary. This uncertainty only intensifies the sense of anticipation and adds to the suspense surrounding the election.
Regardless of who emerges as the victor, it is evident that voters are yearning for change and a way to transform the reality of the country. As Argentina grapples with economic challenges and its debts to the IMF, the next President's policies will undoubtedly shape the nation's immediate future.
In the weeks leading up to the election, all eyes will be on Argentina, as its voters decide which candidate offers the best path forward. The results will not only determine the country's political landscape but also have significant implications for its economic prospects and ability to address pressing societal issues.
As the countdown to the election commences, it remains to be seen how the Argentine electorate will ultimately sway the direction of their country.