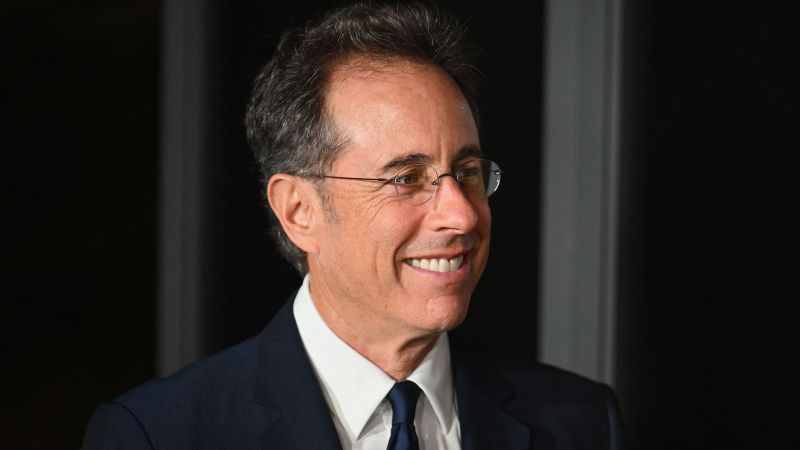 Title: Jerry Seinfeld Drops Hints About a Secret Behind "Seinfeld" Series Finale
In an electrifying stand-up performance in Boston, comedy legend Jerry Seinfeld shocked fans by dropping tantalizing hints about a secret surrounding the legendary series finale of the hit show "Seinfeld." The comedian left the audience hanging on the edge of their seats as he hinted at a possible revelation related to the ending.
During his performance, Seinfeld playfully teased the crowd, suggesting that something significant was in the works concerning the finale. He added fuel to the fire by acknowledging that both he and co-creator Larry David were contemplating a surprise for fans regarding the show's climactic conclusion.
"Seinfeld," which captivated audiences for nine seasons, solidified its status as one of the most beloved network television comedies of all time. The show's two-part finale, which aired in 1998, attracted a staggering 70 million viewers but received mixed reviews.
Seinfeld himself expressed regret over some of the creative decisions made for the finale. He admitted that in hindsight, they should have considered a smaller and faster resolution. Fans of the series have long debated the controversial ending and eagerly await any new insights from the creators.
Known as the show "about nothing," "Seinfeld" masterfully chronicled the lives of a New York City-based stand-up comic and his quirky group of friends as they found humor in the banalities of everyday life. The primary cast, consisting of Jerry Seinfeld, Julia Louis-Dreyfus, Jason Alexander, and Michael Richards, brought their unique chemistry to the small screen, captivating audiences with their iconic performances.
As news of Seinfeld's mysterious hints spreads across the entertainment world, speculation about the truth behind the series finale is reaching a fever pitch. Fans and critics alike are eagerly anticipating any announcements or revelations regarding this monumental television moment.
Stay tuned as we follow this tantalizing story, awaiting further developments from the comedic genius himself, Jerry Seinfeld, and his partner-in-crime, Larry David. Will the "Seinfeld" series finale secret finally be unveiled? Only time will tell.