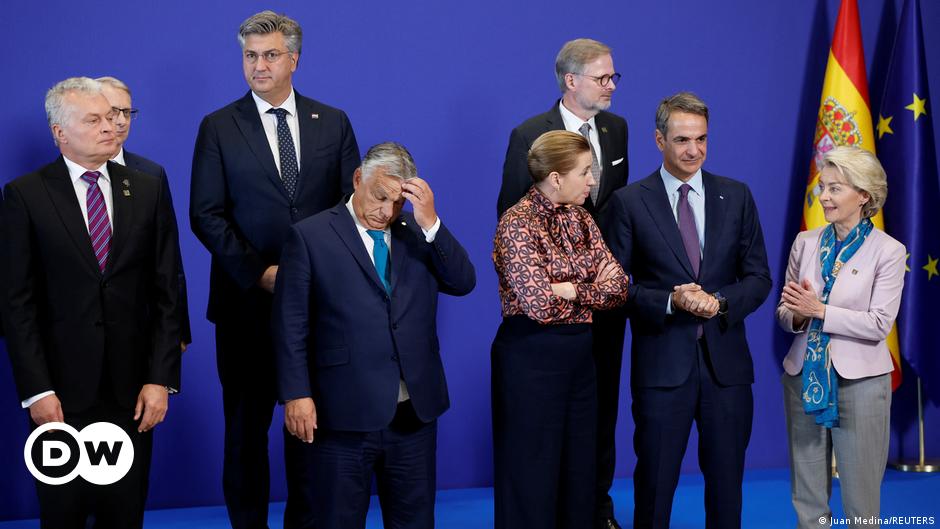 Title: Poland and Hungary Block EU Joint Declaration on Migration Policy, Disagreeing with Bloc's Diplomats
Poland and Hungary recently took a stand against their European Union (EU) counterparts by blocking a joint declaration on migration policy during the EU leaders' meeting in Granada, Spain. This surprising turn of events occurred despite an earlier agreement among the bloc's diplomats to present a migration reform package to the European Parliament.
The Hungarian Prime Minister, Viktor Orban, voiced his concerns by insisting that decisions regarding migration should be made by consensus. Although Poland initially agreed with this sentiment, their Prime Minister rejected any reference to migration policy in the joint statement.
When asked about the disagreement, French President Emmanuel Macron downplayed its potential impact on a final deal concerning migration. He pointed out that not all issues brought up during EU meetings result in a blockade, and negotiations could still proceed despite the differing opinions.
On the other hand, German Chancellor Angela Merkel rejected the stance taken by Poland and Hungary. She firmly believed that rules should apply equally to all member states and expressed her disappointment over their refusal to cooperate in addressing the migration issue.
Interestingly, the joint statement released by the summit only addressed the enlargement of the bloc, completely omitting any mention of migration policy. This omission further highlighted the divide among the EU member states on the topic.
However, European Commission President, Ursula von der Leyen, emphasized the importance of a merit-based accession process to the EU. She reiterated the significance of countries meeting specific criteria to join the bloc, particularly in terms of migration policy.
This disagreement among EU member states regarding migration policy reveals the challenges of reaching a consensus on a topic that has sparked division among the bloc for years. While the joint declaration may be blocked, it remains to be seen how this disagreement will impact the overall migration reform package, as well as the EU's broader policies on migration.
As the EU continues to work towards addressing migration concerns, it is imperative for member states to find common ground and establish an inclusive and comprehensive approach that benefits both their individual countries and the EU as a whole.