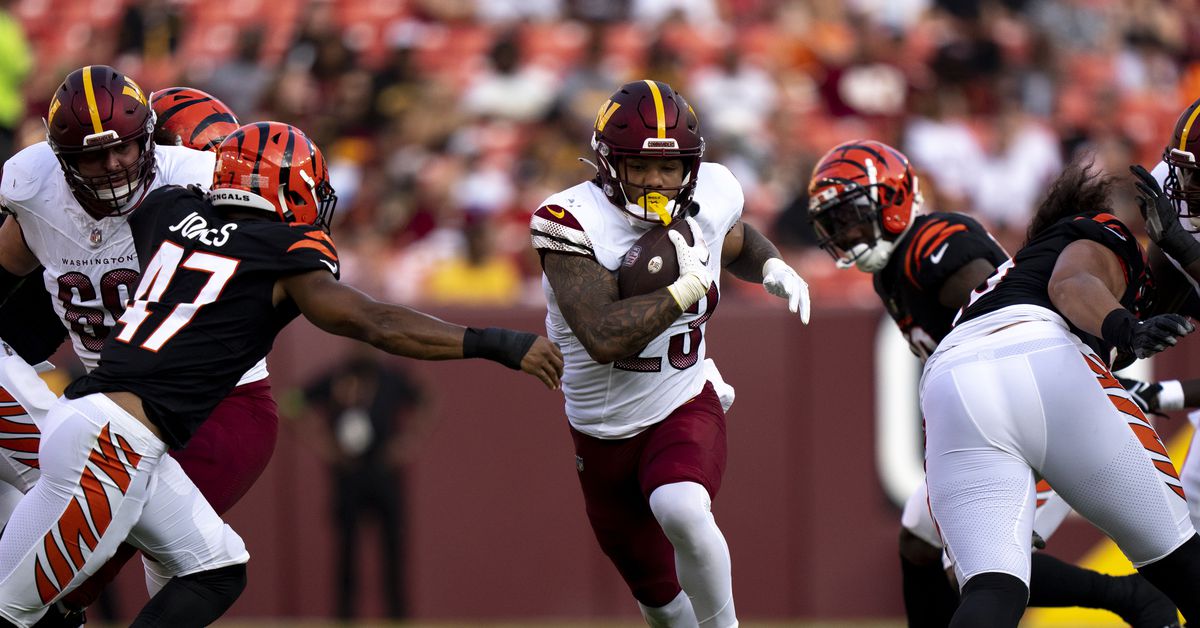 Washington Commanders Prepare to Host Chicago Bears on Thursday Night Football
The Washington Commanders are gearing up for their upcoming game against the Chicago Bears on Thursday Night Football. Despite having a short week, the team has been focused and determined to secure a victory on their home turf.
In preparation for the game, the Commanders have had a light and quiet practice. The players understand the importance of conserving their energy and staying attentive, especially during a week with limited time for rest and recovery.
One player who is facing some uncertainty is rookie running back Chris Rodriguez. He missed the Eagles game due to illness and is now listed as questionable for tomorrow's game against the Bears. If Rodriguez is unable to play, the Commanders may call up Derrick Gore from the practice squad as a replacement.
On the receiving front, both Curtis Samuel and Jahan Dotson have been dealing with injuries this week. However, they have received clearance to play in Thursday's game. Samuel was limited in practice today due to a quad injury, but he is still expected to be on the field. Dotson, who left the Eagles game with an ankle injury, has been declared fit to go for tomorrow night's match.
Last week, both Samuel and Dotson had impressive performances, with each of them scoring touchdowns in the game against the Philadelphia Eagles. Their contributions were crucial in keeping the Commanders in the fight, ultimately leading to an intense overtime battle.
Despite some injury concerns, the Commanders have received some positive news as well. Cornerback Benjamin St-Juste was a full participant in today's practice, despite being listed with a neck injury. Additionally, defensive back Quan Martin suffered a thumb injury on Sunday, but he will be available for special teams duties.
Furthermore, cornerback Christian Holmes also participated fully in practice, even though he was listed with a back injury. The Commanders' coaching staff is pleased with the resilience and determination exhibited by these players, who are willing to push through the pain and contribute to the team's success.
As the Washington Commanders prepare to take on the Chicago Bears, the team is confident in its ability to overcome any obstacles that may come their way. They understand the importance of this Thursday Night Football matchup and are eager to emerge victorious in front of their home crowd. With key players expected to return to action and reinforcements in place, the Commanders are poised to put their best foot forward and secure a much-needed win.