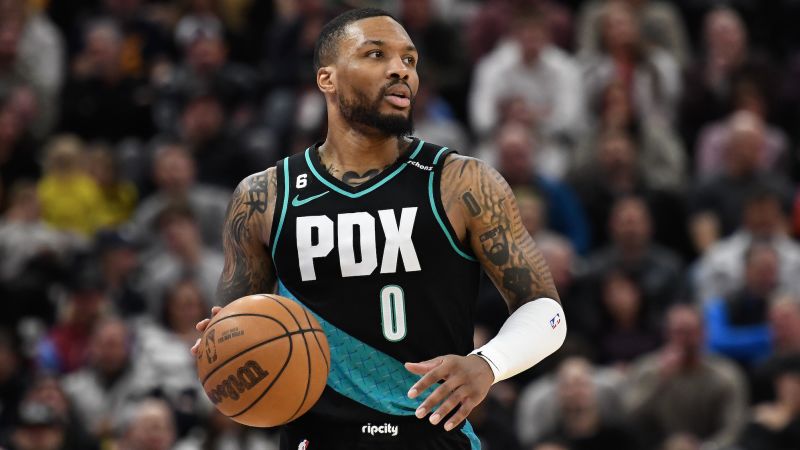 Title: Damian Lillard Traded to Milwaukee Bucks in Three-Team Deal Involving Phoenix Suns
Damian Lillard, the star point guard of the Portland Trail Blazers, is on the move. In a surprising three-team trade involving the Milwaukee Bucks and the Phoenix Suns, Lillard has been traded to the Bucks, marking a significant shake-up in the NBA landscape.
The news was confirmed by Lillard himself on social media, where he expressed his excitement for the next chapter of his career. Known for his on-court heroics and off-court rap skills as Dame D.O.L.L.A, Lillard even released a single aptly titled "Farewell" after the trade was reported, reflecting his emotions regarding the move.
Lillard's departure from Portland comes after he requested a trade from the Trail Blazers back in July. Initially, he had hoped to join the Miami Heat, but with this unexpected trade, Lillard will now be donning the Bucks' colors.
As part of the deal, the Trail Blazers will acquire Jrue Holiday, Deandre Ayton, Toumani Camara, and future draft picks from the Bucks and Suns. This influx of new talent will undoubtedly reshape the Blazers' roster and open up exciting possibilities for the team's future.
Meanwhile, the Suns will receive Jusuf Nurkic, Nassir Little, Keon Johnson, and Grayson Allen in the trade, bolstering their own roster and potentially enhancing their chances of reaching the NBA Finals once again.
The Trail Blazers' General Manager expressed gratitude to Lillard for his immense contributions both on the court and in the Portland community throughout his 11 seasons with the franchise. Lillard's impact on the team cannot be understated, as he consistently averaged 25.2 points, 6.7 assists, and 4.2 rebounds per game.
Drafted by the Trail Blazers in 2012, Lillard made an immediate impact, winning the prestigious NBA Rookie of the Year award in his first season. Over the years, he has become synonymous with the Trail Blazers and has built a loyal fan base in Portland.
The trade marks the end of an era for both Lillard and the Blazers, but it also opens up new opportunities for growth and success. Lillard's move to the Milwaukee Bucks will undoubtedly create a significant ripple effect in the league, leaving fans excited about what the future holds for this talented point guard and his new team.