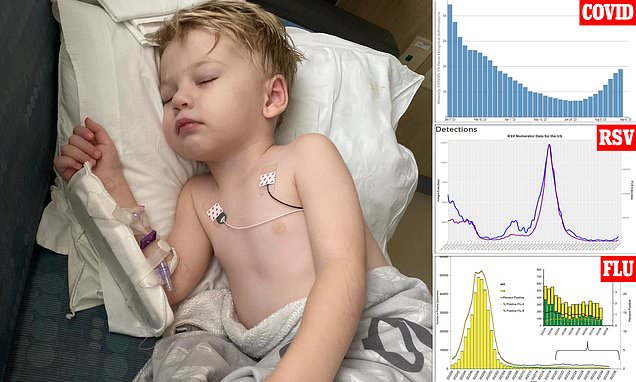 Title: Health Officials Warn of Potential "Tripledemic" and Encourage Vaccinations
Health officials are sounding the alarm as they urge the public to get vaccinated against Covid-19, influenza (flu), and respiratory syncytial virus (RSV) to prevent a potential "tripledemic" this winter. With CVS and Walgreens announcing the availability of updated Covid boosters, experts emphasize the importance of vaccination in minimizing the strain on healthcare systems.
According to the Centers for Disease Control and Prevention (CDC), there has been a notable increase in positive Covid-19 tests, Covid-related emergency department visits, and Covid hospitalizations. Concerns also linger about the rise in flu and RSV activity expected throughout the fall and winter months.
The availability of vaccines against all three viruses marks a significant development, and public health officials are urging everyone to get vaccinated to prevent a repeat of last year's overwhelmed hospitals. RSV infections, particularly severe in children under five years old, can lead to doctor visits, hospitalizations, and even deaths.
While the majority of Americans are advised to consider receiving both the updated Covid vaccine and the flu shot, an estimated 76.5 million adults aged 60 and older are now eligible for a new RSV vaccine.
The tripledemic experienced last year strained healthcare systems as it occurred at a higher rate and earlier than usual. This year, the impact of previous lockdowns, mask mandates, and other pandemic measures has contributed to an intense flu season. The elderly, young children, and immunocompromised individuals remain at a higher risk of severe illness from the flu. It is worth noting that RSV can also cause severe illness and death in young children.
To address the ever-evolving nature of the Covid-19 virus, the CDC has approved updated vaccines to combat new variants. Moreover, even those who have not received any prior Covid-19 vaccinations are eligible for the new boosters. While Covid hospitalizations have been rising since late summer, lower rates compared to last year can be attributed to prior vaccinations and infections. However, with the potential waning of protection over time and the emergence of new variants, staying vigilant and getting vaccinated is crucial.
Additionally, testing for Covid-19 has decreased, and flu and RSV are not regularly tested for. As a result, it becomes essential for individuals to take preventive measures such as getting vaccinated against all three viruses and practicing good hygiene to protect themselves and those around them.
In conclusion, health officials are urging individuals to take advantage of the availability of Covid-19 boosters, flu shots, and RSV vaccines to ward off a potential tripledemic this winter. By getting vaccinated, the public can help alleviate the strain on healthcare systems and protect themselves from severe illness or even death.