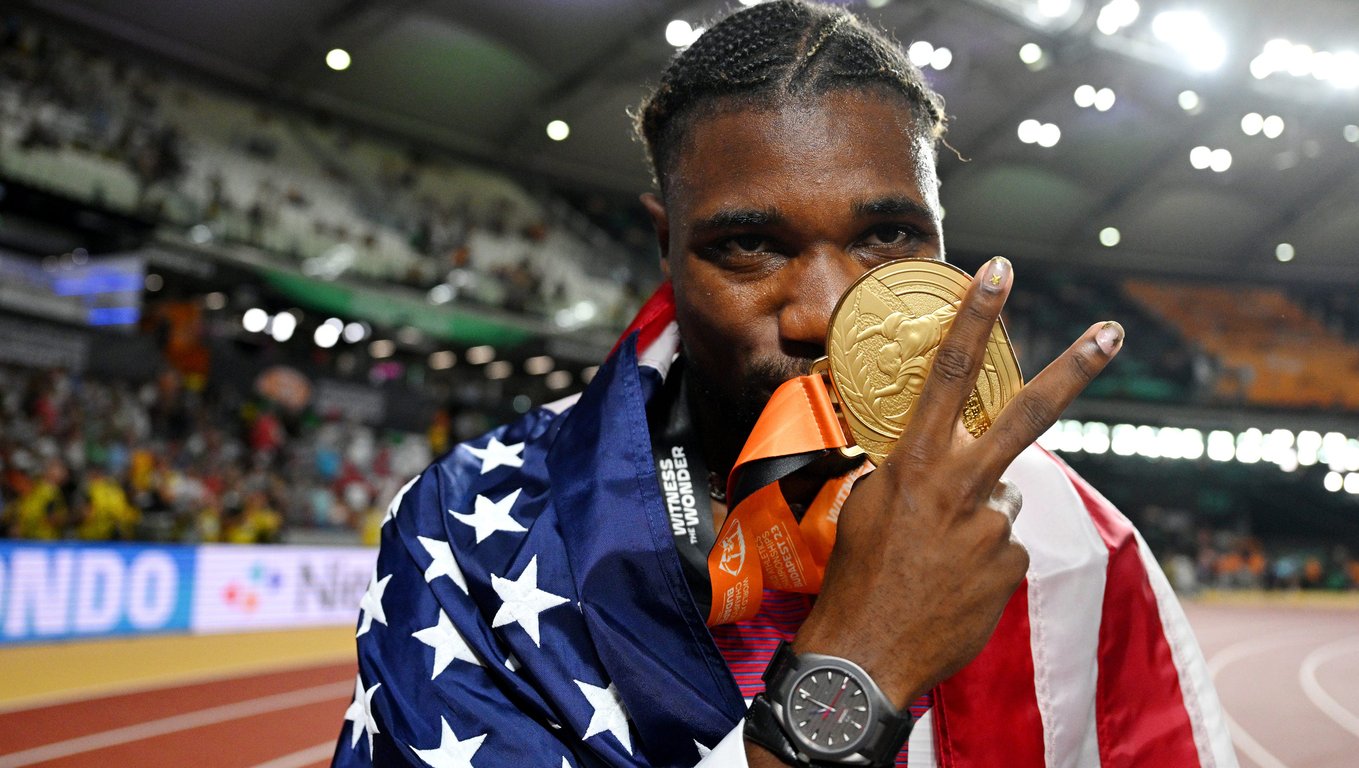 Noah Lyles Makes History with 100-200 Sprint Double at Track and Field World Championships
In a stunning display of speed and athleticism, Noah Lyles has become the first American in over a decade to achieve the 100-200 sprint double at the track and field world championships. Lyles, known for his electrifying performances on the track, secured his place in history with a breathtaking win in the men's 200-meter final.
Clocking in at an impressive 19.52 seconds, Lyles claimed his third consecutive world championship in the event, solidifying his status as one of the fastest men on the planet. His teammate, Erriyon Knighton, also showcased his talent by finishing second with a time of 19.75, while Letsile Tebogo from Botswana took home the bronze medal with a time of 19.81.
Lyles' triumph in the 200-meter final comes on the heels of his gold medal win in the men's 100-meter final earlier in the championships, where he recorded an impressive time of 9.83 seconds. With these stellar performances, Lyles has voiced his excitement and pride, stating that he is honored to join the elite ranks of double champions.
The last American to achieve the 100-200 sprint double was Tyson Gay back in 2007. The legendary Usain Bolt is the only other athlete to accomplish this feat, winning the double in 2009, 2013, and 2015. Lyles now stands alongside these track and field icons, with a total of five career world championship gold medals to his name.
Looking ahead, Lyles is expected to compete in the 4×100-meter relay for Team USA. With his incredible speed and determination, he is sure to be a formidable force on the track.
In the women's 200-meter final, Shericka Jackson produced a remarkable performance to win her second consecutive world championship title. She clocked in at an impressive time of 21.41 seconds, setting a world championships record and coming close to breaking the 200-meter world record set by the legendary Florence Griffith-Joyner.
Gabby Thomas finished second with a time of 21.81 seconds, while Sha'Carri Richardson took the third spot with a time of 21.92 seconds. Jackson's victory marks a sweet revenge after her loss to Richardson in the women's 100-meters earlier in the championships.
Jackson's win also cements her name in history as she becomes the first woman since Dafne Schippers in 2015 and 2017 to secure consecutive 200-meter gold medals at the world championships.
Both Lyles and Jackson's extraordinary performances have captivated the world of track and field, leaving fans in awe of their talent and dedication. As they continue to push the boundaries of what's possible on the track, they serve as inspirations to aspiring athletes worldwide.