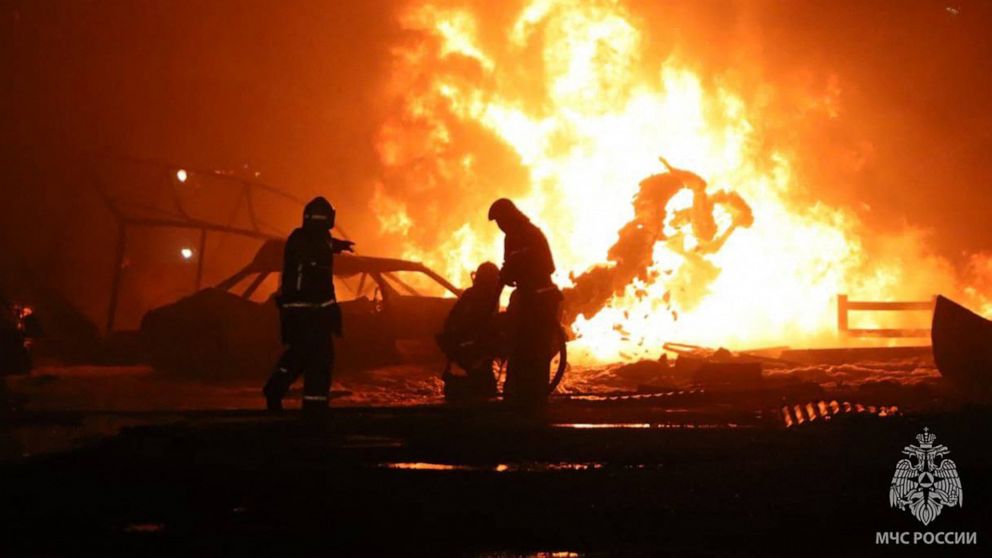 Gas Station Explosion in Makhachkala, Russia Claims Lives of 35 People
Makhachkala, Russia – A devastating explosion at a gas station in the capital of the Dagestan region in southern Russia has resulted in the tragic loss of at least 35 lives. The explosion, which occurred in the city of Makhachkala, has left an additional 75 people injured, with 10 individuals listed in serious condition.
Among the casualties, three innocent children were included, adding to the heartbreaking toll of this incident. The explosion is believed to have originated in a nearby car before rapidly spreading to the gas station, where two out of eight tanks exploded, engulfing the immediate vicinity in flames.
Dramatic photographs released by the Russian Emergency Ministry depict heroic firefighters battling the immense blaze. Their valiant efforts were met with extreme difficulty as the flames continued to cause destruction and chaos.
The cause of the explosion has yet to be definitively determined, but authorities suspect that storing agrochemicals with highly flammable characteristics may have played a significant role. As a precautionary measure, the local gas supply has been temporarily halted to facilitate the emergency response and prevent any further incidents.
Law enforcement agencies have responded swiftly to this disaster, initiating a criminal case due to allegations of negligence resulting in multiple deaths. This demonstrates the seriousness with which the authorities are approaching this tragic event, determined to identify any parties responsible for the avoidable loss of life.
Makhachkala, a vibrant port city on the Caspian Sea, is now grappling with the aftermath of this catastrophic explosion. The local community is in mourning and rallying together to support those affected by this tragedy. As investigations into the incident continue, the focus remains on ensuring justice for the victims and preventing future accidents of this nature.
This gas station explosion serves as a grim reminder of the importance of safety measures and strict adherence to protocols in handling potentially dangerous materials. Our thoughts and prayers go out to the families and loved ones who have been impacted by this devastating event.