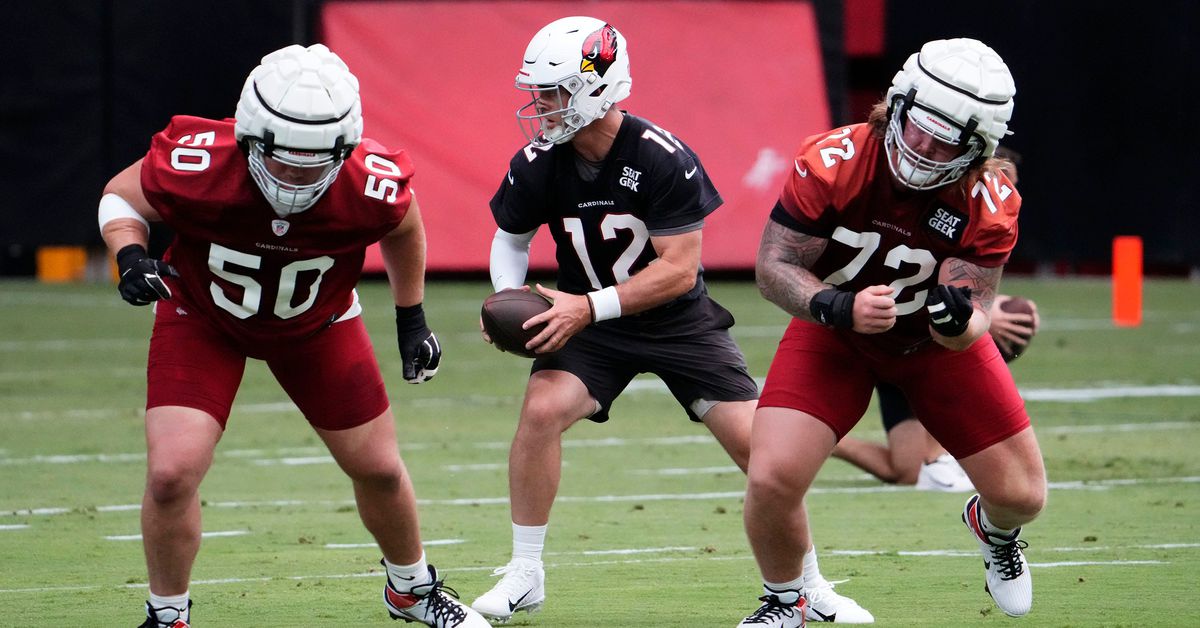 Title: Arizona Cardinals' Red-White Practice Event Draws Enthusiastic Fans, Sparking Hope for Culture Change
In a recent turn of events, the Arizona Cardinals have witnessed a surge in fan support during their Red-White practice event. As the team's new general manager and coaching staff strive for a transformative culture change, the presence of passionate fans comes as a breath of fresh air.
One standout from the practice sessions is Paris Johnson Jr., the rookie Right Tackle, whose exceptional work ethic and skills have caught the attention of both coaches and fans alike. With his impressive performances, Johnson Jr. is now a strong contender for a starting role on the team.
Another player who demonstrated promise during the practice is Marlon Mack, who showcased his potential as the RB2 with a jaw-dropping long run. Mack's explosive burst and nimble footwork have instilled confidence in the coaching staff, who view him as a valuable asset to the team's running game.
James Conner, the newly-acquired star running back, mesmerized spectators with an unbelievable touchdown catch. His outstanding display of athleticism and skill substantiates the Cardinals' decision to bring him on board, igniting excitement among the fans for the upcoming season.
Isaiah Simmons, who made an impact last season as a linebacker, is now showing more confidence and comfort in his new role as a safety. This transition not only speaks to Simmons' versatility but also highlights the coaching staff's ability to maximize players' potential and adapt to their strengths.
During the practice sessions, Greg Dortch stood out as a potential playmaker, specifically excelling as a slot receiver. Additionally, Michael Wilson impressed onlookers with his sizable stature and commendable performance in the scrimmage. Both players have showcased immense potential, raising expectations for their contributions to the team.
As the Cardinals gear up for their preseason game against the Denver Broncos, anticipation mounts as fans eagerly await the team's progress come game time. This matchup will serve as a litmus test for the Cardinals' improvement and allow fans to catch a glimpse of what is in store for the upcoming season.
With an influx of fans attending the Red-White practice event, the Arizona Cardinals are experiencing renewed hope for a culture change. The team's newfound momentum, combined with standout performances from rookies and established players, sets the stage for an exciting and promising season ahead.