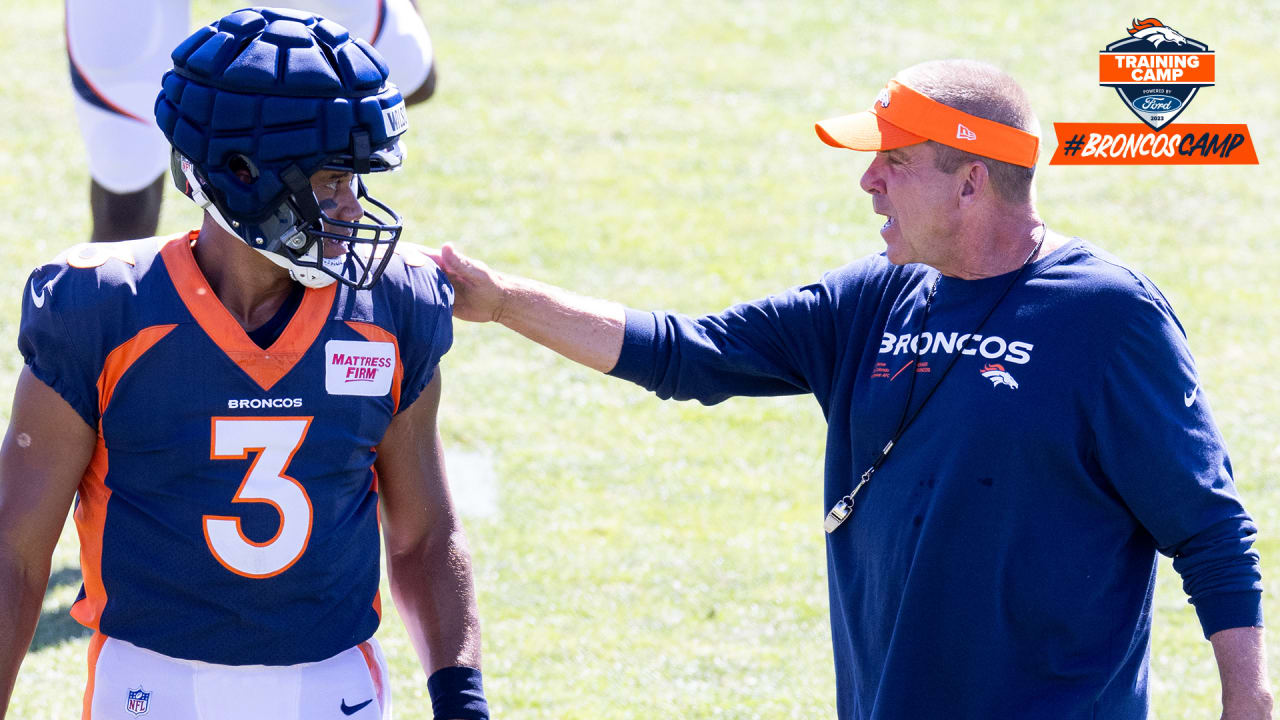 Title: Denver Broncos Showcase Strong Defense and Offensive Improvements in Training Camp
In an exciting training camp session, the Denver Broncos displayed their prowess on both sides of the field, with the defense shining in two-minute scenarios. Head Coach Sean Payton expressed his frustrations over pre-snap penalties, while offensive lineman Quinn Meinerz acknowledged the offense's disappointment and stressed the need for improvement in the two-minute offense.
The training camp kicked off with a thrilling two-minute scenario, where Denver's defense emerged victorious with a game-clinching touchdown by Randy Gregory. Their impressive performance set the tone for the rest of the day, as they showcased their ability to efficiently shut down the opposing offense.
However, Payton voiced his frustration over the offense's pre-snap penalties, which led to a challenging first-and-20 scenario. Recognizing the importance of avoiding such mistakes, he highlighted the need for increased discipline and focus moving forward.
Meinerz echoed the offense's disappointment in their overall performance during the two-minute drill. He emphasized the urgency for improvement and acknowledged that the offense must operate seamlessly in high-pressure situations to ensure success on the field.
In the second scenario, the Broncos' offense displayed their ability to methodically move the ball down the field, ultimately tying the game with a spectacular 52-yard field goal by Brett Maher. This showcased the team's offensive strength and the potential for efficient drives.
Payton stressed the significance of honing their skills in the two-minute drill, explaining that mechanics, clock management, and understanding the importance of valuing the clock are crucial for the team's success. His emphasis on attention to detail indicates his determination to improve the offense's performance in pressure situations.
Other players also made notable plays during the intense 11-on-11 action in practice. Quarterback Russell Wilson impressed with strong completions, including a deep pass to Greg Dulcich, exhibiting his accuracy and arm strength. Additionally, wide receiver Courtland Sutton and cornerback Pat Surtain II engaged in an entertaining one-on-one rep, ending with Surtain recording a pass breakup in the end zone.
Surtain's performance extended beyond the coverage, as he showcased his physicality with a potentially big hit near the line of scrimmage, emphasizing his dedication to tackling and physical play. Safety Kareem Jackson also made a significant impact by recording his first interception of training camp, highlighting his expertise in tracking deep passes.
Overall, the Broncos' training camp was filled with exciting plays, highlighting the team's determination to fine-tune their skills and improve in crucial game situations. As the season approaches, fans can expect a strong defensive showing and an offense that is continuously working towards excellence in the two-minute drill.