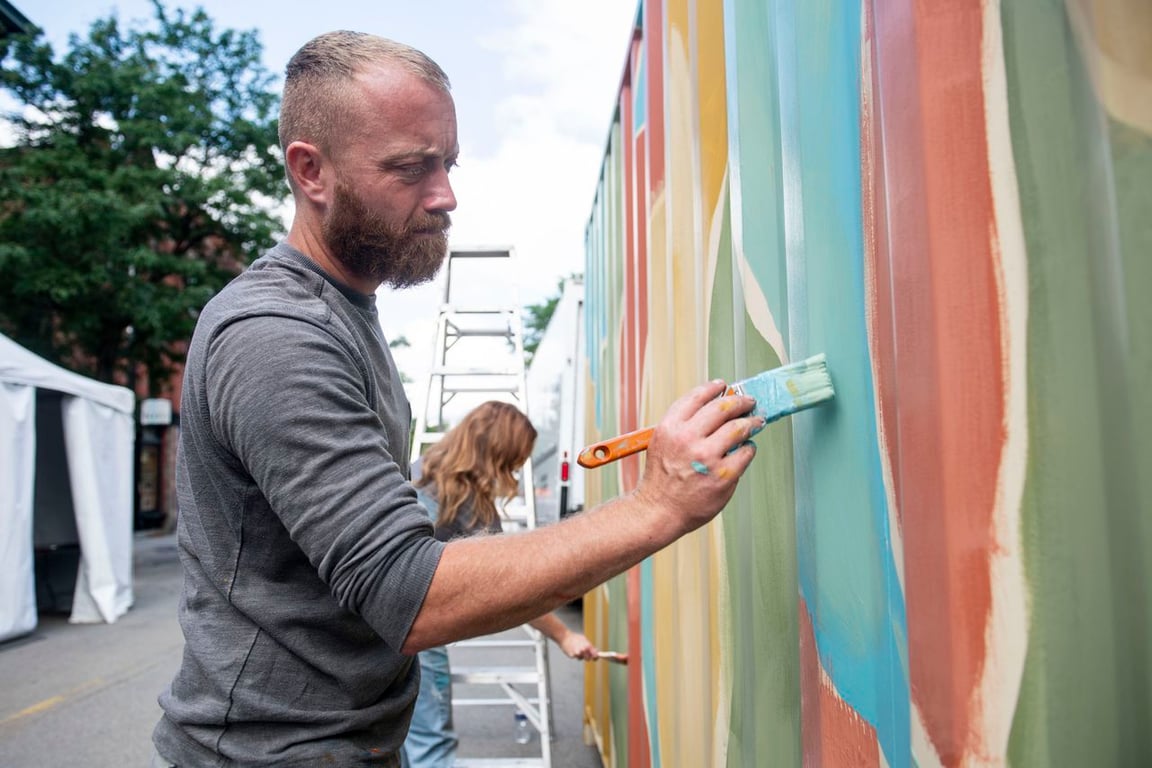 HGTV Star Keith Bynum Unveils Stunning Mural at Ann Arbor Art Fair
Ann Arbor, MI – HGTV star Keith Bynum, best known for his show "Bargain Block," is bringing his artistic talents to life at the Ann Arbor Art Fair. Alongside his partner Evan Thomas, Bynum has been revitalizing and renovating houses in Detroit for their hit television series.
Having completed an impressive 45 houses for their show, Bynum and Thomas estimate that they have transformed around 70 homes within Detroit's Fitzgerald neighborhood. Now, Bynum is unveiling a breathtaking mural at the Ann Arbor Art Fair, drawing inspiration from a recent trip to beautiful Beaver Island.
The storage container mural aims to showcase Michigan's stunning natural landscapes and highlight the state's unique beauty. Bynum's artistic endeavors don't stop at the mural, though; he is also selling his original artwork alongside Thomas at the fair.
Incredibly community-driven, Bynum reached out to the Ann Arbor Art Fair when planning to bring an art fair to Detroit. Seeking their expert input and guidance, Bynum's dedication to supporting and enhancing the art scene in Michigan is evident.
Fans of "Bargain Block" need not worry, as the third season of the show is set to premiere on August 23. The upcoming season promises even more challenging renovations and showcases the remarkable transformations achieved by Bynum and Thomas.
As the Fitzgerald neighborhood nears completion, Bynum and Thomas are already preparing to tackle a new neighborhood in need of their expertise and help. Their dedication to revitalizing communities and creating beautiful, affordable homes is making a lasting impact in Detroit.
The mural at the Ann Arbor Art Fair is a testament to Bynum's artistic prowess and his passion for showcasing Michigan's beauty. Visitors to the fair will not only be able to admire his mural but also have the opportunity to own their very own piece of Bynum's artwork.
Be sure to catch the premiere of the highly anticipated third season of "Bargain Block" on August 23 and stay tuned for more incredible transformations by Bynum and Thomas. Their unwavering commitment to improving neighborhoods and creating stunning homes is truly inspiring.