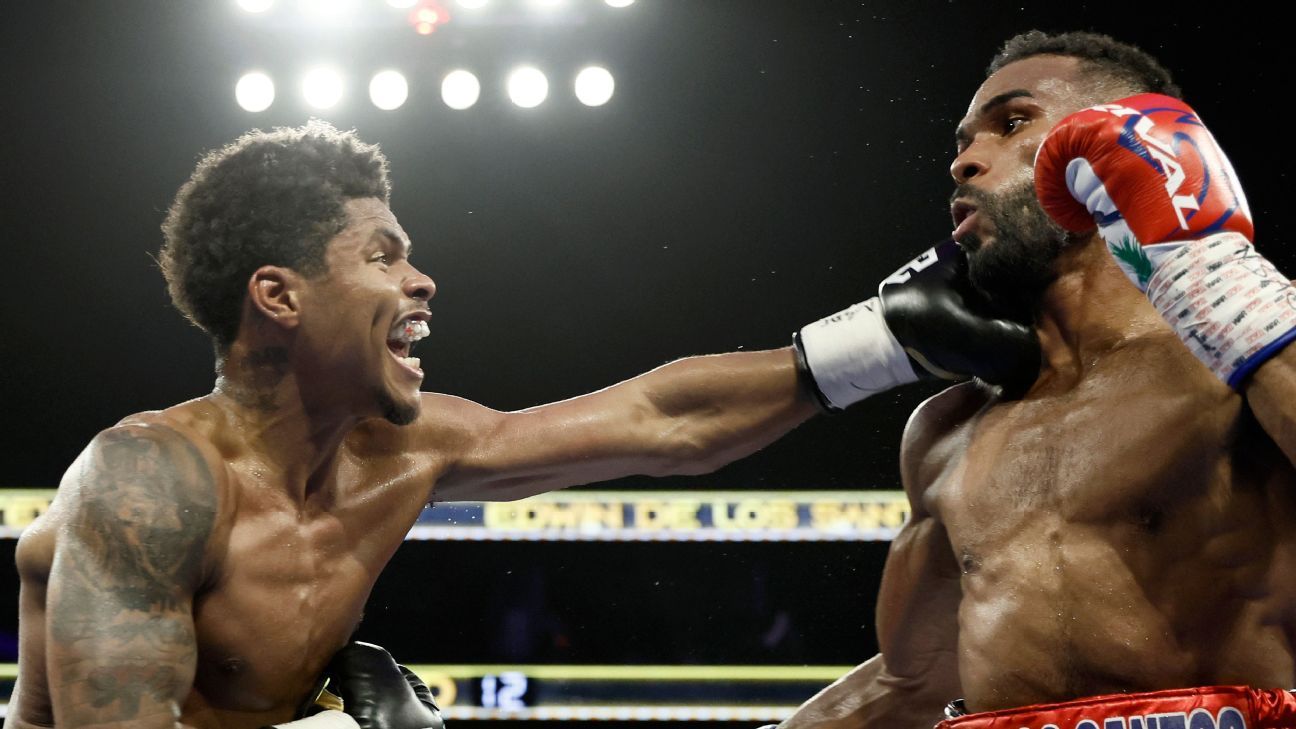 Shakur Stevenson Secures Third Weight Class Title, Yet Disappoints in Lackluster Fight Against Edwin De Los Santos
In a highly anticipated match that had boxing fans on the edge of their seats, Shakur Stevenson managed to clinch his third weight class title. However, his lackluster performance left many questioning his abilities and disappointment lingered in the air.
Stevenson, known for his strong offense and powerful punches, surprisingly failed to live up to expectations in this recent showdown against Edwin De Los Santos. Acknowledging his shortcomings, Stevenson admitted to not feeling his best leading up to the fight, which may have contributed to his poor performance.
Throughout the 12 grueling rounds, both fighters struggled to connect punches, evident from the dismal punch stats. It was clear that neither Stevenson nor De Los Santos were able to find their rhythm, leaving fans yearning for more action and excitement.
Devin Haney and Ryan Garcia, prominent figures in the boxing world, didn't hold back in criticizing Stevenson's lackluster performance. Dismissing him as a threat, they questioned his potential and ability to compete at a high level.
The lack of action in the fight was attributed to the style clash between Stevenson and De Los Santos. Their contrasting strategies resulted in a slower-paced and less intense matchup, disappointing those who were eagerly anticipating an explosive showdown.
Despite securing the victory, Stevenson faced backlash from boos echoing throughout the arena and fans leaving before the fight concluded. The disappointment among spectators was palpable, leaving Stevenson with a lot to prove in future matches.
In another surprising turn of events, Emanuel Navarrete delivered an action-packed fight against Robson Conceicao. However, the match ended in a draw, leaving both fighters with mixed emotions. This unexpected outcome could potentially impact Navarrete's potential rematch with Conceicao, which could have a ripple effect on Stevenson's future fight options.
As Stevenson looks to redeem himself and entertain his fans after his lackluster performance, suggestions for his next opponent have already emerged. One name that keeps popping up is William Zepeda, a pressure fighter known for his high volume punching and engaging bouts that are well-suited for television audiences.
Ultimately, Stevenson's next fight choice will be crucial in proving his capabilities and winning back the fans who were left disappointed. With the weight of redeeming himself on his shoulders, Stevenson will need to carefully select his next opponent, prioritizing both his redemption and the entertainment value for his supporters.