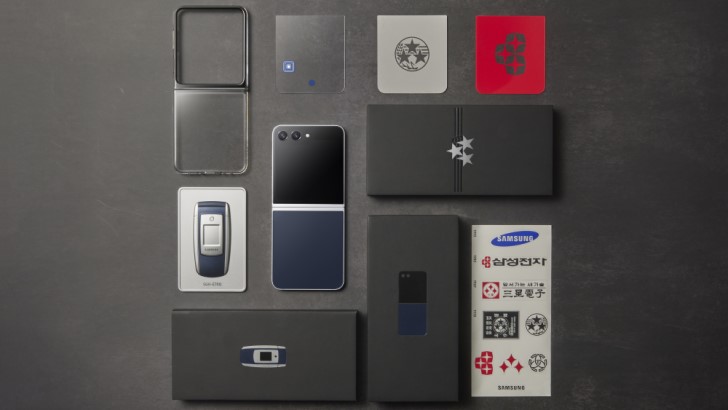 Samsung Electronics has recently announced the release of a special edition smartphone, the Galaxy Z Flip5 Retro, as a tribute to 20 years of technological advancement. This limited edition phone takes inspiration from the iconic SGH-E700, a groundbreaking mobile phone that played a significant role in securing Samsung's position in the mobile phone industry back in 2003.
With the launch of the Galaxy Z Flip5 Retro, Samsung aims to showcase its rich history of innovation and highlight the evolution of its mobile devices. The company has a remarkable track record of introducing revolutionary products, including the MP3 phone SPH-M2500, the watch phone SPH-WP10, the TV phone SCH-M220, and the camera phone SCH-V200.
The Galaxy Z Flip5 Retro pays homage to the distinctive features of the SGH-E700. It features indigo blue and silver colors, reminiscent of the original design. Additionally, the smartphone's UX design takes inspiration from the pixel graphics prevalent in the 2000s, providing users with a nostalgic experience. The device's Flex Window also showcases a captivating cityscape animation, further adding to the retro charm.
In addition to the handset itself, the package includes three Flipsuit cards adorned with logos representing different eras of Samsung's history. These collectible cards, along with a unique serial number collector card, add an element of exclusivity to the limited edition release. Users will also receive a Flipsuit case to protect their device.
The Galaxy Z Flip5 Retro will be available in limited quantities exclusively through Samsung's official website, Samsung.com, in select countries. Customers in Korea, the U.K., France, Germany, Spain, and Australia will have the opportunity to own this nostalgic piece of Samsung's heritage.
Samsung's commitment to pushing technological boundaries is evident in this latest release. The Galaxy Z Flip5 Retro combines modern innovation with a touch of nostalgia, allowing users to truly appreciate the company's journey in the mobile phone industry over the past two decades.