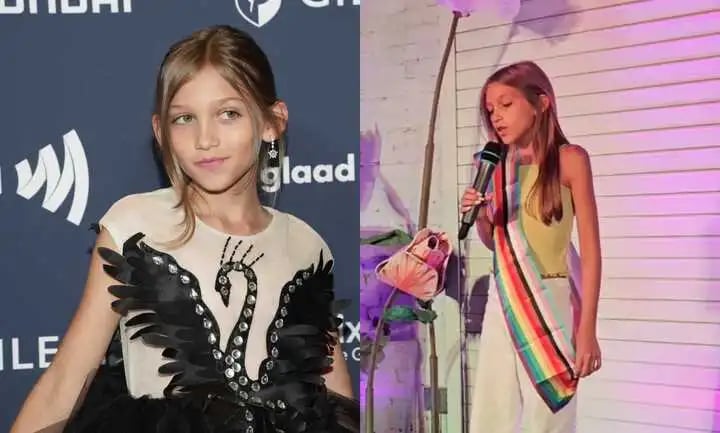 11-Year-Old Trans Girl Makes History as Grand Marshal of Orlando Pride Parade
Orlando, FL – In a remarkable display of bravery and resilience, 11-year-old trans girl Dempsey Jara has become the youngest ever grand marshal of the Orlando Pride parade. Dempsey, who proudly identifies as female, rode in an open-top car with a puppy on her lap during the Come Out With Pride Festival in Orlando.
Dressed in a floral dress and donning pink heart-shaped sunglasses, Dempsey waved and blew kisses to the crowd of approximately 200,000 people who had gathered for the Orlando Pride festival. Despite recent anti-LGBTQ+ laws in Florida, Dempsey remained proud and true to herself, delivering an inspirational message to reporters.
"Being transgender is not a choice, it's about being true to yourself," Dempsey passionately expressed. Her sentiment echoes the voices of countless others in the transgender community who have faced adversity and discrimination.
Dempsey's journey towards self-acceptance began at a young age. Her mother, Jaime Jara, shared that Dempsey had identified as female since she was just 18 months old. However, the Jara family has faced backlash and accusations of "child abuse" for supporting Dempsey's transition.
Undeterred, Dempsey had her birth certificate changed in 2019 to accurately reflect her affirmed gender. Despite the challenges they have faced, Dempsey's parents have remained steadfast in their support for their daughter. They run an Instagram account where they share footage from the parade, allowing Dempsey to express her joy in being her authentic self.
Their courage and resilience have not gone unnoticed. Florida Congressman Maxwell Frost attended the event, emphasizing the importance of love and acceptance in the face of hate and discrimination. Dempsey's parents have also received messages of support from others facing similar situations, solidifying their belief that they are making a positive impact on the transgender community.
Dempsey's accomplishment as a young trans trailblazer serves as a testament to her indomitable spirit and unwavering determination to be true to herself. As the youngest ever grand marshal of the Orlando Pride parade, she has given hope and inspiration to countless individuals who are on their own journeys of self-discovery and acceptance.